You cannot go through the NBA pre-draft process without emerging with a token criticism. R.J. Barrett has tunnel vision. Ja Morant turns it over too much. Darius Garland never passes. It sticks to you like the nametag at your 10-year high school reunion, sometimes defining you more than the collection of your positive attributes. With too much time to fill between the end of the NCAA Tournament and the actual NBA Draft, flaws are amplified.
The critiques of Cam Reddish feel different. Saying someone doesn't care about the game they play, that they have a "low motor," is a commentary on a person's being rather than their skillset. That's the charge that's been leveled at Reddish, sometimes relegated to third wheel on a Duke team boasting Zion Williamson and Barrett. His season was inconsistent. From one game to the next, Reddish toggled between the next Paul George and the next Andrew Wiggins. He struggled to finish at the rim, and despite one of the sweeter-looking strokes at the college level, struggled with consistency from deep. A nagging core injury ate at him all season. But when Reddish was on, he was on, showing that he's the type of talent that deserves to go in the lottery during Thursday's NBA Draft.
Reddish doesn't shy away from the aforementioned criticisms. But say he doesn't care about basketball, and that's where he draws the line. In a chat with UPROXX courtesy of JBL, Reddish touched on his critics, dealing with injuries and how he'll remember his time at Duke.

What's this entire draft process been like for you?
It's definitely been crazy. But I feel it's everything I expected. Obviously the injury kept me from doing all the workouts I expected to be doing, but other than that it's been what I expected it to be and I'm enjoying the moment of it.
You recently had surgery to heal that core injury that bothered you all season. How's your recovery going?
Today actually makes two weeks since the surgery, and I'm feeling really really good. They say I'm doing better than I should be doing right now, so I'm in a good spot.
How much did the injury affect you during your freshman season?
I don't like to use that as an excuse, but I definitely did feel it pretty much consistently throughout the entire season. I felt it a lot on the defensive end, and I felt it when I jumped a lot, too. Shooting a little bit, but not as much as jumping. Every movement it was there, but I tried to push through it, stay mentally strong and do what I had to do.
You had an up and down year, but is there a criticism that bothers you, or one you think it particularly unfair?
Yeah. I would say my low motor. I'm not necessarily huge on that, and I don't agree with it. But people are going to talk, so let them talk and only time will tell.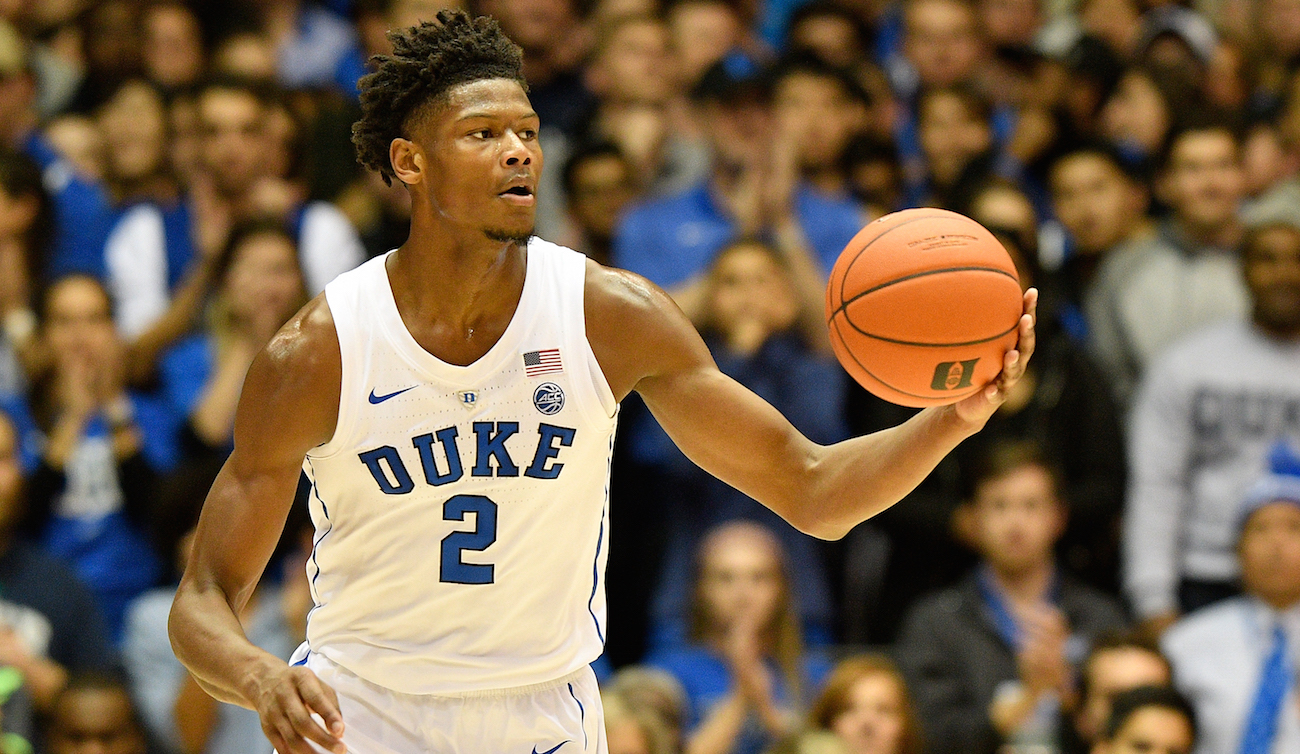 You mentioned in a previous interview that you didn't exactly eat the best while at Duke. Have you had to overhaul your diet?
Yeah, for sure. You've got to put the right stuff in your body. I'm trying to change that every day, and it's definitely a process and a learning experience but, at the end of the day, it's for the better. Candy has been the hardest thing to give up.
It's fairly surreal that you, Zion and R.J. could all go in the top five in the draft. Do you guys ever think about how special it was for you three to play on the same Duke team?
We talk about it now sometimes, how crazy it was and how much of a great experience it was for us. So I'm definitely sure in the future we'll talk about that, probably more often.
What's the suit game looking like for tonight?
Typically I'm more reserved, but I feel like my suit is a little more out there, a little louder. I'm looking forward to that.
Finally, you get a lot of pretty cool gifts going through this pre-draft stuff. I heard JBL gave you some custom headphones.
They are real cool. Nice shiny red. Red is my favorite color, so it's a real nice set of headphones. They've got "TGBTG" on the side, my little slogan, "To God be the glory." It was a fantastic present.
What artists do you have on heavy rotation right now?
I'm a hip-hop kinda guy, so I like listening to Gunna, Lil Baby, Playboi Cardi, Lil Uzi.
If you could walk up and greet Adam Silver to one track, what would it be?
Probably "Top Off" by Gunna.