Carlos Boozer is in one heck of a good mood. On the hardwood, his Duke Blue Devils look like potentially the best team in college basketball, boasting a collection of top-line talent that few teams can match. They had to survive a scare against UCF in the second round of the 2019 NCAA Tournament, but for now, Zion Williamson and company are still in a position to join Boozer's 2001 squad as Duke teams that secured national championships.
When Dime spoke to Boozer on Thursday, his good vibes were heightened by the fact that he was making his way to Opening Day in the Bronx, where his beloved New York Yankees would go on to beat the Baltimore Orioles, 7-2. If he has his way, the start of April and the start of November will end the exact same way: With his teams winning titles.
Boozer himself is in the mood to win a championship through Captain Morgan via its Captain's Pose-Off Bracket Challenge. He's among the eight-person field in a competition to do exactly what it sounds like he's tasked with doing — show off your best Captain Morgan pose and potentially advance through the bracket and be crowned the winner at the Final Four in Minneapolis.
Before his Pose-Off matchup with former Virginia Tech coach and current ESPN analyst Seth Greenberg begins on Saturday, Boozer chatted with Dime about Duke, his favorite NBA players to watch right now, and how he never rented out his house in Los Angeles again after letting Prince stay there.
What do you have going on with Captain Morgan?
I'm teaming up with Captain Morgan to compete in the Captain's Pose-Off Bracket Challenge. Basically what it is, it's just like bracketology, man. I'm in the first round. I matched up with Seth Greenberg, someone obviously I admire and look up to and someone who has a great creative mind. I haven't seen his pose yet, but I'm getting some ideas for my pose. I'm more matched up and fans can vote on Twitter and then go to Captain Morgan US and vote there, and also on my Twitter page, @mistercbooz, to vote as well.
I gotta ask you a few Duke questions. In your estimation, what is it about this team that just makes it so special?
Yeah, I mean obviously, I was just saying earlier, I think we're so explosive. Obviously with Zion, Cam, and R.J., they're just another level, especially being 18 years old. One of the things I'm most impressed with, with this team, is how poised they are under pressure. Every close game that we've had, they've handled it very well. The ones that we lost, we've learned from that experience for the next time around. Obviously missing Zion those few games when he was recovering from injury, the team had to figure out how to survive the battle, which made some other guys step up and play strong, which is going to help us in the tournament as well.
So going into the Sweet Sixteen I feel like all the close games that we've [had], including the last round, is going to help us to prevail. They're very explosive, but I'm very impressed by how poised they are under pressure. Zion makes a lot of plays. R.J. makes a lot of plays. Cam does as well. And then sitting back there on the sidelines, Coach K seemingly in every situation can get these guys prepared for what they're about to face.


This Duke team is so fascinating because it has all this talent — R.J. can ball, Cam can ball, Tre can ball — but Zion has become this guy who's bigger than what we've seen out of most college kids. We expect most of those dudes to make the jump, but if you could pull Zion aside, what piece of advice would you give him as he's getting ready to go on this journey to the NBA?
Just stay true to his self. I think he's the next star. He might be one of the most popular athletes in sports right now. He's on ESPN every morning, on the cover of magazines, just has a lot of attention towards him. Kind of reminds me of LeBron when we drafted LeBron in Cleveland, very similar as far as notoriety and the attention.
One of the things that I've always admired about LeBron is he stayed true to who he was throughout everybody pulling you different directions. You've got shoe giants pulling you, you've got commercials pulling you. He focused on the game, he always put time in if he put three hours, four hours, five hours a day into his game and he stayed true to who he really was. That would be a lot like Zion. There's gonna be a lot of people pulling at him.
Also, my biggest thing with him going to the NBA is where will he go? Will he get great coaching? Because some of these kids get drafted and they go to a franchise or an organization that doesn't have the best coaching in place and they don't progress the way that they should. So my hope for Zion is that he goes to a place where they're gonna develop him so he can become the best player he can be, which, the sky's the limit for him.
I know the answer to this, but I gotta ask: Who do you got winning the tournament and who do you have them beating.
Come on son! The Blue Devils baby! I'll tell you this though, I'm very impressed, the 16 teams are very good. The 16 teams that are in college basketball right now are very good. I got us going all the way to the championship and beating the Tar Heels. I think the Tar Heels are the one team that won't be afraid of Duke, you know, obviously they've seen them so many times. The Duke/UNC rivalry is well known as one of the best rivalries in sports. But I think UNC has a chance to get the championship the way their road is paved for them. And obviously I think we'll see them in the championship and we're cutting the nets down.
Yeah I think the exact same thing. And for how special Duke and UNC is there would just be something a little more special with them facing off with the title on the line, which says a lot for how much history there is in this rivalry.
And I think it's about time. I mean, think about it over the years, we haven't seen a Duke/UNC final. I think it's about time we saw one.


Moving on to the NBA for a second. You're a few years out of playing and I imagine you're getting a chance to sit back and just enjoy basketball from a kind of different perspective. Who are just your favorite players to watch right now and what is it about their games that you like so much?
Yeah, I'm huge fan of the NBA. It's cool because my kids are in middle school right now so we have great video sessions that we watch. I love the Greek Freak, I think his determination, his skill level, his passion. I really enjoy watching Embiid play. When I came in the NBA, trash talking was still a part of the game, you didn't get fined for it or you didn't get criticized for it. It was part of the psychological game. And I like how he psyches some of his opponents out. I really dig that. But he also has the game to back it up. He's very good inside, very good outside.
Obviously I'm a huge Kyrie fan. I think he's phenomenal. I feel like he's been scrutinized a lot — asked to be traded, comes to Boston, has his own team. But I think all the stuff that they're going through, through the course of this season, they're going through the fire together, it's going to help propel them once the postseason comes. I still feel like they're one of the most talented teams in the NBA and my hope is that they're able to put it all together at the right time.
I'm interested in asking your perspective as a former player — we're in this kind of era that's been defined by one team winning championships in Golden State. And I wanna know, do you enjoy watching them or are you kind of ready for this stretch of dominance that they've had to come to an end?
Golden State has multiple former MVP's which is very rare to see on the same floor together, on the same team together. It just obviously imposes a challenge. As a competitor, it raises the bar, right? What you look up seeing … like back in the day, you had the Celtics when they had Larry Bird and Parish and McHale and the rest of those guys, and obviously my generation, LeBron, D-Wade, and Bosh, teaming up down in Miami to win championships.
Then you also have the guys who went to Boston, with KG, Paul Pierce, Ray Allen, and Rondo. So it's been done over the years. I don't know if we've had so many All-Stars, you gotta go back to Magic Johnson's era with Kareem and those guys where they had four or five different All-Stars they got two former MVP's. I just think it ends up getting teams that are going to end up working together, they play together, they've known each other.
What it does is forces other teams to raise the bar, because otherwise, they're gonna keep winning. Bottom line, they have so much talent if they're healthy, they're very well coached, they have championship experience. For God's sake, Andre Iguodala won the finals MVP and he's not even a starter. So they have a team, as they're constructed, that can continue to win, so other teams are going to have to raise the bar, put great players together to have the chance to beat Golden State. Unless they decide to break it up, like if KD leaves or Klay leaves or Boogie leaves, then it's a different ball game. But if they stay as constructed as they are, they're very, very tough to beat. And, I'll add, I think OKC will have a chance, I think Houston will have a chance, but I think their best competition is going to come from the Eastern Conference.
Interesting, is there one team that you see out of the Eastern Conference that you think really, really should scare them this postseason?
Yeah, that's a good question. The thing about it, LeBron's not in the East anymore so I feel like the top three or four teams, it's kind of wide open. Milwaukee's a phenomenal defensive team, number one in the league with their record, number one in the East. Toronto is very well constructed especially after getting Marc Gasol. Philly's got a great starting five. If you look what they did when they got Tobias Harris over there, obviously you get Jimmy Butler earlier in the season. And Boston is still very good.
I think at the end of the day those four teams — Milwaukee, Toronto, Philly, and Boston — I think it's up for grabs. All four of those teams will be a good opponent of the Warriors in the Finals, and it's gonna be interesting to see them battle it out to see who gets through the Eastern Conference and gets to the championships series.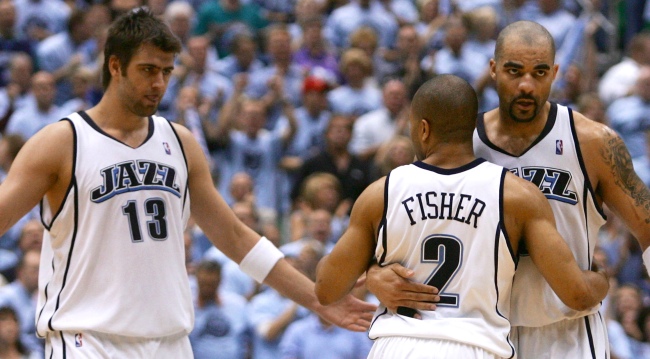 One thing that I know about you is that you've enjoyed taking on a bit of a mentorship role for younger guys since you've retired. Why do you think it's important to take on this role and do you think it's important for veterans in general to give back to the younger generation of player?
Yeah, that's another conversation because I really feel like I was blessed to be mentored by some great O.G.'s, some veteran guys like Karl Malone, Alonzo Mourning or some other guys that kind of took me under their wing when I got to the NBA. I look around the league and there just seems to be less and less veteran players on teams to help guys out.
For me, I'll get you a quick example. My first playoff experience with Utah, me and Deron Williams led a group of guys with Coach Sloan into the playoffs to go up against Yao Ming and Tracy McGrady. We're down 0-2 in the series and it felt like it was over, to be honest. It felt like, "Oh my God, it's over, it's gonna be devastating, embarrassing, blah blah blah."
We had signed Derek Fisher that summer. Obviously he won five championships with Kobe Bryant, had plenty of experience and went through difficult series to win championships. And he says, "Guys, get me one, you gotta get one." He said, "Guys, we lost two games at their place. If we go home and we win the two at our place guess what, the series is tied and it's a best of three series."
Just him saying that gave us a little bit of hope on the plane ride back to Utah. And then the next day he brought his championship rings to practice just to show us you can't win one of these things without going through some adversity. Right now our backs are against the wall, but we have a chance to come back at home and tie the series up.
So we went back home and tied it up at 2-2, and we ended up beating the Houston Rockets in game seven on their floor to advance to the second round of the playoffs. I just feel like … Derek Fisher being an O.G. vet and us being young — I was like 22, 23 I was like a baby in the NBA — I feel like you gotta be able to pass on some of that knowledge to some of these young guys. Because you need guys around that have been through the fire, that are battle tested to get these guys experience, so when they're going through it themselves, they have someone to lean on. That's what he had in Derek Fisher.
My last question: The story of you renting out your house to Prince, there aren't many things that made me laugh as hard as that. Do you have any other stories of celebrities renting out your place or is that Prince thing so unique that you just never rent it out again after that?
No, it was extremely unique and I never, honestly, I'd never rent it out again. It was one of those experiences I was like, "You know what? Just keep your crib for yourself, you can get other properties and rent those out." My main house I keep to myself now. So, true story, obviously may he rest in peace, but great guy, true story.