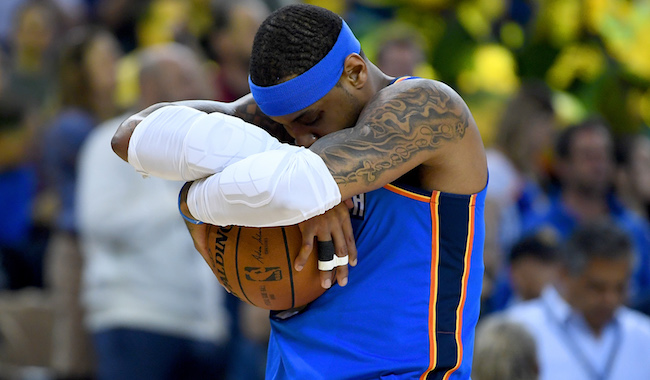 At the age of 33, Carmelo Anthony is operating in the post-prime stage of his career and, as a result, the Oklahoma City Thunder forward isn't quite the dominant scorer that he once was. With that in mind, it may be easy for some younger NBA fans to forget just how effective Anthony was for a long time.
On Tuesday evening, a reminder surfaced when Anthony surpassed Jerry West for 20th place on the NBA's all-time scoring list. Anthony entered the game against the Houston Rockets needing just five points to tie West and, within the first quarter, the stage was set for a bit of history.
Almost immediately, Anthony's friend and NBA Draft classmate LeBron James hopped on Twitter to send along his congratulations.

While Anthony probably won't be joining the top seven in the way that James already has, there is every reason to believe he can chase down greats like Reggie Miller, Alex English, Kevin Garnett, John Havlicek and Paul Pierce with an eye toward making the top-15 in the near future. It can't be overstated how impressive it is to compile more than 25,000 points in an NBA career and, frankly, passing Jerry West on virtually any all-time list is cause for celebration.