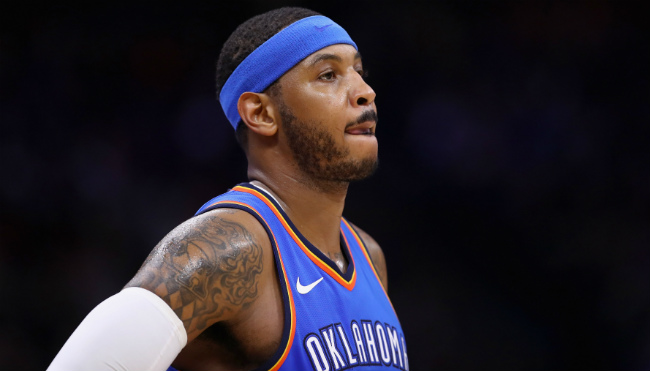 You know how parents like to say "I'm not angry, I'm disappointed" whenever they want to want to make one of their children feel as awful as humanly possible? Well, Carmelo Anthony is not taking that approach with the Oklahoma City Thunder right now. The veteran forward sees a bunch of angry teammates, and in a way, that's not a bad thing.
The Thunder, which added Carmelo Anthony and Paul George to Russell Westbrook over the summer, currently sit at 8-12 on the year. For a team that came into the season with championship aspirations, being 8.5 games behind the first-place Rockets is not exactly inspiring. What is even worse is that the Thunder just look awful, which is not what you would expect for a team with three stars.
In Anthony's eyes, this has led to an angry team. The anger stems from the simple fact that his teammates are competitive and do not want to settle for not being the best team they can be.

Via ESPN:
"Nobody is moping around, nobody is frustrated. I think guys are angry. I think guys are pissed," Anthony said. "That just comes from your competitive nature, wanting to win games — understanding what we have over here, the talent level that we have over here and not being able to put it together right now. So that's where the anger comes in at.

"I think in this game you almost have to be angry when you're losing basketball games. The way we're losing basketball games, it's more on us than anybody else. The anger part comes in, and I think when you're angry you show that you care. It's different than being frustrated. Being angry and being frustrated are two different things."
The important thing, obviously, is that Oklahoma City is able to channel this anger into something positive, especially after Wednesday night's 121-108 loss to the Orlando Magic, which marked three straight losses. Additionally, the Thunder have lost five out of their last six.

Anthony also pointed out that this mindset is different from what has happened at career stops he has made in the past, as losing streaks would cause frustration that would continuously build.
"This is not frustrating," Anthony said. "Because we know what we have and we know what we can be and we know when we do it the results that we get.

"It pisses us off, it makes us angry when we're not getting the results that we want. We're putting in the work but we're not getting the results, and I think that's where the anger comes in at. We're angry that we're losing and we've got to stop that, but I've been on teams before we've dropped three, dropped four, dropped 10, dropped 12, and after a couple games the frustration level just gets higher and higher. And I wouldn't say anybody's frustrated in here."
In a way, Anthony is making it sound like he'd rather his teammates are angry as opposed to frustrated. As to whether the Thunder start using that anger as motivation to turn their season around, well, we'll find that out in the coming games.