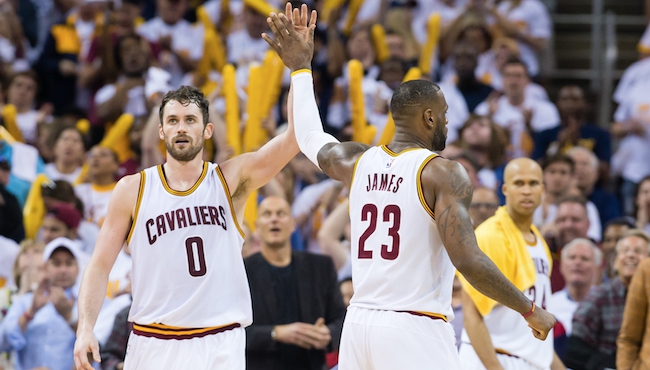 The numbers tell a story the Cleveland Cavaliers want to believe.
Kevin Love and Kyrie Irving combined for 69 points in the wine and gold's hard-fought 106-101 victory over the Detroit Pistons on Sunday afternoon. They scored 13 of their team's last 18 points with the quick catch-and-shoot triples and aggressive rim attacks that many believed made Love and Irving, respectively, perfect offensive running mates alongside the Cavaliers' franchise player before last season began.
Their play in Game 1 was stellar, and no doubt prompts many league followers to wonder what might have changed last year if both stars had been healthy for the NBA Finals – not to mention what could take place if Cleveland meets the Golden State Warriors for a rematch come June.
Anyone really paying attention to what transpired at Quicken Loans Arena, though, recognized a reality that's been all too familiar for the better part of 13 years. The Cavaliers still won't hoist a Larry O'Brien Trophy unless LeBron James drags them to it, and even that might not be enough.
The box score suggests a ho-hum performance by the four-time MVP. A line of 22 points, six rebounds, and 11 assists on 9-of-17 shooting is pretty much what we've come to expect from James in the playoffs. But statistics, as always, don't paint an accurate portrayal of his immense overall impact.
Case in point: Cleveland's crucial run after the Pistons opened the final stanza with a mini surge.

James reentered the game with 11:03 remaining on the fourth-quarter clock and the Pistons up 83-76 following a quick 7-0 run. The game's remainder was a forceful reminder of why many still consider the two-time champion basketball's best all-around player.
There was LeBron tipping home an offensive rebound to tie the game at 83-83. There he was blocking shots by Reggie Jackson and Tobias Harris on consecutive possessions. There he was pushing the ball in transition and forcing his way to the free throw line. There he was stymying Harris on an aggressive post-up attempt. There he was drawing defenders and finding Love in the corner for a three that gave the Cavaliers a two-possession lead they'd never relinquish.
By the time it was over, James finished the fourth quarter with eight points, three rebounds, two assists, and two blocks. He went 2-of-3 from the field and 4-of-4 at the line while notching a team-high +12 plus-minus.
It was classic LeBron, basically, the type of all-court two-way dominance he seems to summon at will this time of year. Which is not to suggest, by the way, that he played at anything less than full tilt from the opening tip of Game 1. James' defensive energy and engagement was peak all game long, and he attacked the rim with abandon early and often.
Still, there's no force in basketball quite like James when his team's back is against the wall. The last few weeks of the regular season made it safe to assume that would be the case throughout spring and summer. He was absolutely dominant after flipping the switch to playoff mode for good.
Why, though, did the heavily-favored Cavaliers need James' late-game heroics to stave off a defeat at the hands of Detroit – especially with Love and Irving humming?

The Pistons won't shoot like they did in Game 1 all series long. Kentavious Caldwell-Pope and Stanley Johnson combined for seven three-pointers on 11 attempts Sunday afternoon, scorching shooting that flies in the face of their season-long proficiency. Either way, Detroit's offensive effectiveness against Cleveland makes one thing impossible to ignore: The Cavaliers don't have the defensive personnel it normally takes to win a championship.
Maybe it won't matter.
Perhaps Love and Irving stay hot throughout the postseason, James re-stakes his claim as the world's greatest player, and the Golden State Warriors and San Antonio Spurs go cold come the Finals. A key difference between the Cavaliers and those Western Conference powers, though? It's impossible to imagine them winning a title without multiple qualifiers, which should be the takeaway from a telling Game 1 more than anything else.