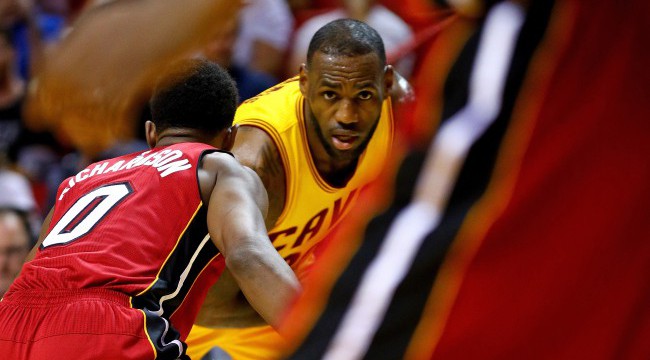 LeBron James and the Cleveland Cavaliers hold a one-game lead for the top spot in the Eastern Conference. It may not seem like much when two teams in the West are pushing toward 70 wins, but the Cavs have a shot at a 60-win season and three rounds of home-court advantage.
But there could be trouble lurking in a potential second- or third-round matchup with the Miami Heat.
Miami defeated Cleveland 122-101 on Saturday, which marked the 11th-consecutive time the Heat defeated the Cavs in Miami. That's a loaded stat, as that streak stretches to a time when James was with the Heat. However, the Heat are 4-0 at home against the Cavs since James returned to Cleveland.
And James has taken notice. From ESPN:
"The way they've beat us here is a little concerning if we face them [in the playoffs]," James said after Saturday's loss. "I think we'll be ready for it more. We didn't play [up to our] potential. We didn't play our game. We let them play their game, and they took it to us."
Cavs coach Tyronn Lue said, "With LeBron James coming back here, they get up for the game. We need to start getting up for these games."
It's a cliche as old as time, but it's rooted in truth: Once the playoffs start, the regular season doesn't matter. If anything, losing handily like this may only have the Cavs more prepared for the Heat in the postseason.
And with the Cavs playing four of seven at home, even if the Heat do dominate in Miami, it may not matter anyway.
(ESPN)