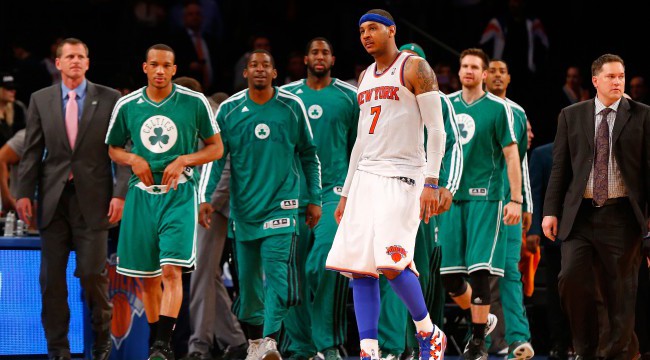 After shipping off the triumvirate of Rajon Rondo, Paul Pierce and Kevin Garnett, the Boston Celtics have a treasure chest of assets. They're wading in shallow waters waiting for the perfect opportunity to pounce on a good deal to net them a disgruntled superstar. Around the trade deadline, they were linked to several big names, but nothing came to fruition. The Celtics need a star to push them from delightful playoff contestant to legitimate title contender. They need a primary scorer who can create good looks when their offense bogs down and the defense gets amped up in late April and May. They need a player who knows how to navigate the ebb and flow of a deep playoff run. They need, Carmelo Anthony?
According to Ian Begley of ESPN New York, the Celtics reached out to the Knicks about a possible 'Melo deal.
Prior to the trade deadline, the Boston Celtics expressed interest in obtaining Anthony via a trade with the Knicks, according to league sources with knowledge of the situation.

It is unclear if there were any formal discussions between New York and Boston and if those discussions ever reached an advanced stage. But Boston was informed that Anthony had no desire to leave the Knicks via trade to play for the Celtics, sources say.
If Boston had somehow been able to sell 'Melo on the idea of a deal, he would add an interesting dimension to their free-flowing offense. He's not the dynamic scorer he once was, but he would provide a scoring threat from the wing that the Celtics do not currently possess.
However, at the age of 31, 'Melo isn't an ideal fit for an up-and-coming Celtics squad. They need a star who will grow with their young core and give them several opportunities at a title run. If the Celtics are going to give up a potential top-three pick in the upcoming draft, it should be for a player who they can build around for the next five to ten years.
(ESPN)