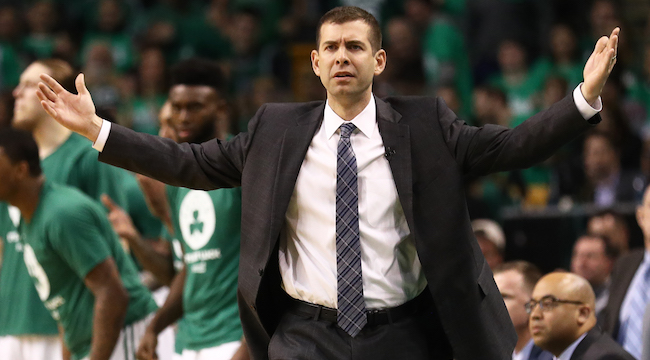 The Boston Celtics are in serious trouble. Brad Stevens, Isaiah Thomas and company fell flat in a 111-97 home loss against the Chicago Bulls in Game 2, and with that, the No. 1 seed is left with the tall task of needing four wins over the next six games in order to advance. As you might expect in an instance such as this, the reactions to Boston's ugly two-game performance have been swift and biting.
While general hilarity and pointed criticism are warranted in this case, the great majority of wrath has come in the direction of Celtics general manager Danny Ainge. After all, Boston chose to sit on their war chest of assets instead of "cashing in" on a godfather offer for either Jimmy Butler and Paul George. That decision is looking less than ideal at this point.

While Ainge took the brunt of the jokes, Stevens isn't immune from a few jabs here and there.
For good measure, Boston's highest-paid player, Al Horford, is taking some heat after a performance in which he contributed only seven points in 32 minutes.
While Horford wasn't supposed to be a big-time scorer when Boston acquired him, the fact remains that the Celtics are (very) short on offensive firepower outside of Thomas. When the All-Star guard leaves the floor, things go sideways in a hurry and, on this night, the ball began rolling downhill in a way that the Celtics just could not stop.
This series isn't over but, judging by the Twitter eruption, it might as well be.