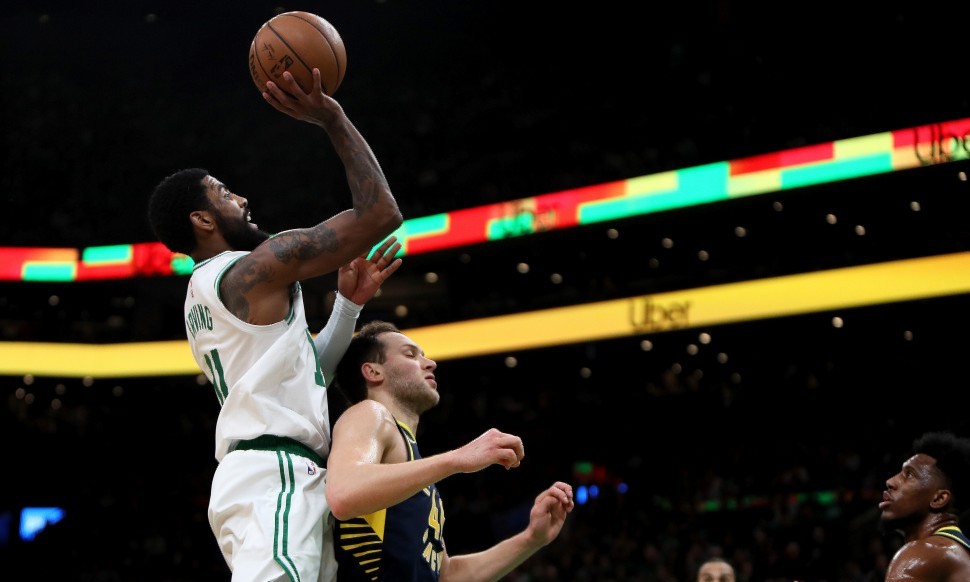 For the second straight game, the Celtics have had to come from behind to beat the Pacers in Boston, this time overcoming an 11-point deficit entering the fourth quarter to win Game 2, 99-91.
Kyrie Irving had 37 points, seven points, and six rebounds in a virtuoso performance, helping to drag the Celtics to a win over a Pacers team that had dominated the third quarter. Indiana won the third quarter 29-16, but in the fourth quarter it was their turn to struggle offensively as Boston came a live to win the final period 31-12 and take a 2-0 series lead in the process.

Bojan Bogdanovic was the star for Indiana, scoring 23 points including a pair of late three-pointers that gave Indiana a 91-89 lead late in the proceedings. However, Jayson Tatum had the answer, hitting a big three to give them a one-point lead and then finding Gordon Hayward wide open under the basket to give them a 94-91 advantage.
For whatever reason, the Pacers turned to Wesley Matthews in the final minute on two key possessions. First he missed a wild, bank three effort that was never particularly close on a shot that felt far more forced than was needed at the time. Then, he was tasked with inbounding the ball with 12.1 seconds to play and wasn't on the same page with Bogdanovic, rifling a pass over everyone on the court and into the waiting lap of Marcus Morris on the Celtics bench.

That effectively ended the game, as Indiana for some reason chose not to foul immediately on the ensuing inbound, instead letting Boston make a few quick passes leading to an and-1 dunk from Tatum, getting him to 26 points, sealing a win for the Celtics.
It was nothing short of a meltdown for Indiana, who have struggled in both games in this series finding consistent offense late in the game — which one has to think is a byproduct of Victor Oladipo's absence. The Celtics, to their credit, have stepped up on both ends when needed in the second half in this series, but Indiana will go home down 0-2 and kicking themselves for not having swiped homecourt advantage in at least one of the first two games of this series.