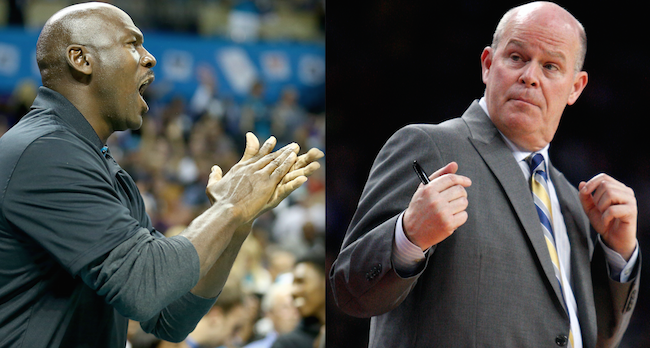 We didn't like the Charlotte Hornets' draft selection of Frank Kaminsky. The sweet-shooting big man has a clear place in the league as a valuable third big man, and could even emerge as a starter with the ideal personnel surrounding him.
Kaminsky the player, basically, had little to do with our appraisal of Charlotte's pick. What certainly did was the superior talent that remained on the board at No. 9, plus the humbling long-term prospects of Steve Clifford's roster. Subsequent news that the Hornets turned down an offer of four first-round picks from the Boston Celtics in exchange for the choice they used to draft Kaminsky only made matters worse.
Charlotte bungled the 2015 draft. Even more troubling, though, is the reasoning behind that misstep.
Grantland's Zach Lowe recently penned a piece on the Hornets' awkward balancing act between playing for the present while building for the future. Among a host of interesting quotes, factoids, and nuggets, what most caught our eye was front office higher-up Curtis Polk's justification for the team refusing trade packages on draft night and ultimately selecting Kaminsky with the ninth overall pick.
"You have two minutes to decide: 'Do I want to do this trade?'" says Polk, one of five men atop Charlotte's decision tree. "You don't have a day. You don't have hours. After all the intelligence we'd done, we were comfortable with Frank. But now you have two minutes to decide if you make this trade, who you're gonna take at no. 16, or maybe no. 20, and we haven't been focusing on that range. In fantasy basketball, it sounds great: 'Oh my god, they could have gotten all those picks.' But in the real world, I'm not sure it makes us better."
Polk's take makes sense on the surface. Charlotte was awarded the No. 9 pick back on lottery night and used its scouting resources to focus on players who were likely to be available with that choice in the interim. Kaminsky was always going to be a member of that group, as were Myles Turner, Devin Booker, and more.
The problem, though, is that the Hornets honed in only on those mid-to-late lottery prospects, electing against preparing for contingency plans. Draft night is a circus. And though this year's was ultimately less action-packed than anticipated, it still contained a number of trades, rises, falls, and other surprises.

Consider this: Could Charlotte have let Justise Winslow's shocking slide from the top-six continue because they didn't scout him? It's one thing for a franchise to pass on a ballyhooed prospect, but a whole 'nother to do so because it was more comfortable with a player universally thought of as inferior to the one it chooses in his place.
That same line of thinking applies to the trade offers of which Polk alludes. It was no secret that the Celtics longed to move into the lottery; we reported on that desire multiple times, and Danny Ainge said he expected "a lot of movement" on draft day, too. All NBA teams should be ready to wheel-and-deal when it comes to the draft, and even player movement in general. The league doesn't drive on a straightaway; its collective path is winding.
Why Charlotte hasn't come to that realization is anyone's guess.
Michael Jordan's track record of decision-making is checkered at best, and Lowe writes that five people sit atop the organization's basketball ops throne – including Jordan's brother, Larry. Nepotism is often the death-knell of professional sports teams. Combined with an overtly crowded franchise hierarchy? It's no wonder the Hornets have failed to comprehend the need for basic foresight.

And while we assumed the presence of Rich Cho, nominal general manager, would ultimately mitigate the influence of Jordan and his confidantes, that doesn't appear to be the case. His response to Boston's reported trade package for Charlotte's lottery pick, in fact, is nearly as concerning as Polk's:
"If it was such a no-brainer for us, why would another team want to do it?"
We'd normally suspect a lauded basketball executive asking an utterly ridiculous question like the above was done to placate a potentially frustrated fan base. Given the similar sentiment of his peers, however, it's fair to wonder if Cho really believes what he's selling. For the sake of the Hornets' future, let's hope not.
Conventional wisdom was that multiple front office voices were needlessly and debilitatingly complicating Charlotte's hopeful rise to legitimate contention. Now? Maybe the minds behind the voices have been the biggest issue all along.
[Via Grantland]