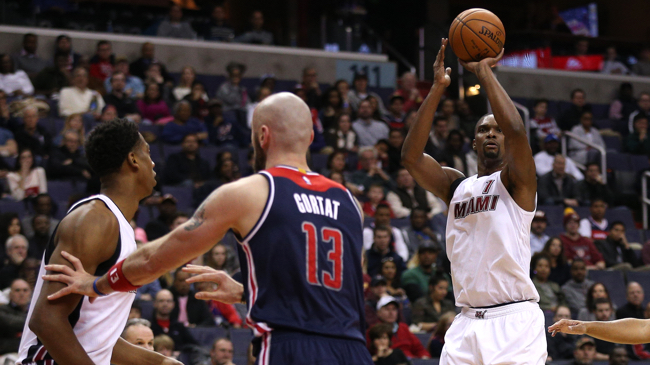 Steph Curry, Klay Thompson, Paul George, Kyle Lowry, Kevin Durant, and James Harden are some of the 2016 NBA All-Stars that would make a lot of sense as participants in this year's NBA three-point shootout over All-Star weekend. There is also a big list of non All-Stars, like Damian Lilliard,  C.J. McCollum, J.J. Redick and Kyle Korver, who would seem to be natural fits in the competition as well. Heck, I even suggested putting 11-year-old Jaden Newman in the event to see if she could pull off another surprise win over Steph Curry.
One name you probably don't think of as a serious candidate is sometime Heat center and power forward, Chris Bosh. Prior to the 2013-14 season, Bosh had never made more than 21 threes over the course of a season. But starting in 2013-14, the Heat big man worked on getting that shot to be a more consistent part of his game, and the results have paid off.
Bosh made 74 threes two seasons ago, and he hit 63 last year despite playing in only 44 games. This season, Bosh is having his most productive year yet from beyond the arc. He's has connected on 75 triples already (tied for 36th in the league), and is leading his team in three-point percentage at a 37.3.
After the Heat beat the Bucks on Friday, Bosh was asked by reporters if he'd be interested in the event, and the 11-time All-Star said if he was asked, he would participate.
"I didn't think they'd ask," Bosh told The Palm Beach Post after tonight's 107-103 win in Milwaukee. "I don't know. I'd say if they ask me, I'm in. Why not? But they gotta ask me first. I don't know if they'll ask me. But if they ask me, yeah, why not?"
Having Bosh in the event would increase the star power quotient, and it would also be a novelty to see a near seven-footer try to out-shoot some of the league's best guards like Curry and Thompson. In recent years, power forwards like like Kevin Love, Matt Bonner, Ryan Anderson and Rashard Lewis have all tried their hand at the three-point contest, and Love and Dirk Nowitzki even managed to win it.
So what say you? Should Bosh be rewarded for expanding his game and be given a spot in the shootout? Or should only the truly elite shooters be given a chance to shine? Last year's competition was likely the greatest in NBA history, and Steph won it against his equally as talented backcourt mate. So Bosh will certainly have to bring it if he does get an invite.