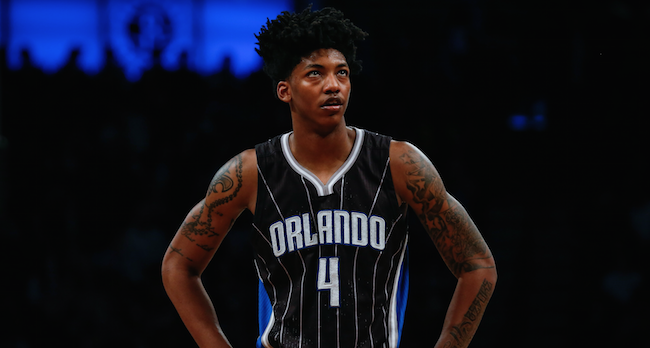 Ah, August in the NBA. While the league has done an admirable job making the NBA a year-round thing, August is still considered the doldrums of all things basketball related. The players know this, too. They're working out, keeping themselves in shape, but not keeping anywhere near as grueling of a regimen as they do in the regular season. Nor should they. It's their downtime. They should feel free to do whatever, like, say, try a new sport. Football, for example.
That's exactly what Elfrid Payton and Chris Paul did during one of their workouts at D1 Sports. First up was Payton, who put some nice moves on Paul en route to making a spectacular, one-handed grab for the touchdown.
It still defies logic, and the basic rules of nature, that Payton can run so fast while being so aerodynamically disadvantaged by his magnificent hair. Though perhaps it's more like Samson, and if one were to cut Payton's hair, he would forever lose his skills.
Next up was Paul, who used some of his on-court trickery on the field. Paul is a master of stopping on a dime, then blowing past his man, as he does here. Sure, there's a bit (okay, more than a bit) of a push off, but we'll let it slide.
As fun as this match up was to watch on the field, it'll be much more intriguing when the two face off on the hardwood when the season finally begins.
(Via Chris Paul and Elfrid Payton)