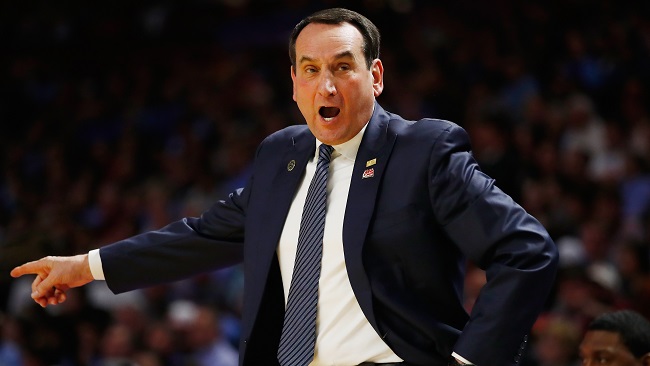 Kentucky's John Calipari is known as the college basketball coach that has profited most from the "one and done" rule that forbids high school players from jumping directly to the NBA. The Wildcats attract several five-star prospects on an annual basis and, even if most of them do not stay in Lexington beyond that freshman season, Kentucky has been able to build a brand as something of an NBA factory while utilizing that high-end talent to compete for national titles.
However, Kentucky isn't the only program making the "one and done" work to its advantage and, in recent years, the Duke Blue Devils have emerged as something of a "1-A" next to Kentucky in battling for virtually all of the top players. In fact, Mike Krzyzewski leaned heavily on freshmen like Justise Winslow and Jahlil Okafor in claiming the 2015 national championship and, in short, Coach K is arguably the most powerful voice in the entire sport.
With that in mind, Krzyzewski sat down with Evan Daniels of Scout on The Sidelines podcast and he put forth an opinion that would probably surprise some people.
To put it plainly, Coach K does not believe the "one and done" should remain and, in fact, he is fully supportive of student-athletes foregoing college entirely.
"I would be totally for, and have always been in favor, of kids being able go right to the pros and not putting any restrictions on them as to how long they have to stay. I think that's not right, but we also have to be in cooperation with the NBA, the Players Union."

"If the kid did go straight out of high school do they have the resources to take care of that kid. I think with the G-League developing the way it is, I think 26 out of the 30 NBA teams have an affiliation and to me I think each NBA team has to have it and I think they're going to that. I'm all for the kid and the family."
This, of course, is not a controversial opinion as many in the industry (including NBA commissioner Adam Silver) have voiced opposition to the current system. Still, it is another thing entirely to hear this from Coach K, who has been heavily involved in USA Basketball and, as noted above, taken full advantage of the rules in keeping Duke atop the college basketball landscape in recent years.
Krzyzewski noted in the same interview that "college basketball will be fine" if the rules change to allow players to jump to the NBA directly and, frankly, there is plenty of evidence of that theme from previous years. More than anything, it could be argued that fans of college hoops root for laundry and excitement. Those things would not flee the sport if the best of the best never set foot on a college campus and stars would still be created (hello, Adam Morrison and Tyler Hansborough) at the college level.
It seems likely that not every college coach would share this enlightened view from Coach K but it is a good look for him to state this feeling on the record and it can't hurt the greater cause to allow players to choose the path they desire.