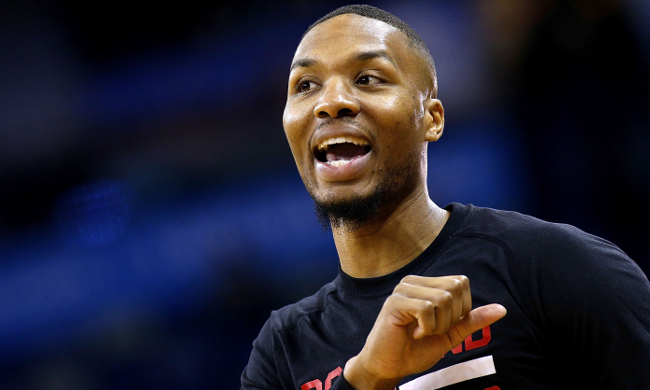 The crown jewel of adidas' shoe technology is BOOST, the sole material that makes for some of the most comfortable shoes on the market. The UltraBOOST running shoe is among the best out there and the majority of adidas' signature basketball sneakers, like the Harden Vol. 1 and the D Rose's, feature BOOST soles.
However, there is one major adidas hoops shoe that still doesn't have BOOST in it and that is Damian Lillard's sneaker. The Lillard 4's will drop later this fall, and Lillard's line has been one of adidas' most popular basketball sneakers since it launched in 2014.
There is, naturally, a question of why Lillard's sneaker doesn't have BOOST. Is it adidas not investing in Lillard's sneaker enough? Does Lillard not like the material?
Lillard gave us the answer to that question late on Sunday night after a fan asked him why his shoe is one of the few BOOST-less adidas out there, and the reasoning is more than understandable.

Lillard's sneakers run for $115, a good $25 cheaper than the Harden or Rose signatures, and a big reason for that is the lack of BOOST running up the cost. An UltraBOOST running shoe will run you $180, so Lillard is keenly aware of how expensive sneaker shopping can be for hoops fans and by going without BOOST, he keeps his price more reasonable.
Lillard's shoe falls in the same price range as the Kyrie and Paul George signatures from Nike, which are far more accessible than the likes of LeBron, Kobe, Durant, or even the Harden/Rose sneakers. It's admirable that Lillard is trying to think of the cost of his shoe when working with adidas to design it, and that it was a conscious decision on his part to keep the price down by leaving BOOST off the sneaker.
The Lillard 2 remains one of my personal favorite sneakers, even without BOOST, and the accessibility of a $115 shoe — while still a decent chunk of change — isn't lost on Lillard's fans.