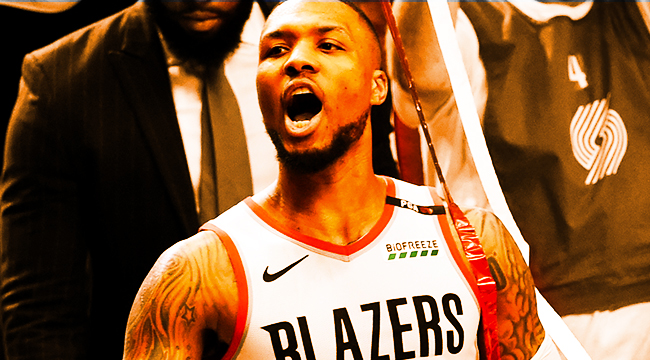 Before Damian Lillard hit the shot that will be replayed in Springfield until the end of time, there were 47 minutes and 50 seconds of basketball played, with enough back-and-forth between the two teams to write a movie that would eclipse the Avengers: Endgame in runtime. Frankly, each and every possession of the game deserves to be watched and re-watched and broken down, but I fear my editors might not like that very much. Rather than breaking down all of the 224 possessions in this game, we're going to pick up the action with 3:28 left in the fourth quarter and talk through the ending to this instant classic.
Oklahoma City has taken a 113-105 lead, thanks in part to a lengthy run that took them from down nine to up 15 with 7:45 left. Portland got it down to five, but Oklahoma City bounced back with a little run of their own to get it back up to eight before they took a timeout. Billy Donovan had three timeouts left and would have lost one if he didn't take it before the 3:00 mark, so no matter what, he was going to use this to ensure his players were ready for the stretch run.
To this point, Portland had played nearly the entire series with a true center. One of Enes Kanter, Meyers Leonard, or Zach Collins were always on the floor at any given time; the only time they went with no true center was on end-of-quarter, offense-only possessions, but head coach Terry Stotts had otherwise always opted to stay big, even in the face of Oklahoma City's smaller outfits.
In a surprise move, Stotts came out of the timeout with a small-ball unit to match the Thunder. Damian Lillard, Seth Curry, C.J. McCollum, Moe Harkless, and Al-Farouq Aminu closed the game, while Oklahoma City countered with the same lineup they used for the final 10:20 of the fourth quarter: Russell Westbrook, Dennis Schröder, Terrance Ferguson, Paul George, and Jerami Grant. Those ten players would see out the remaining 208 seconds of the series.
Seemingly not expecting the small lineup from the Trail Blazers, Oklahoma City came out of the timeout with a George-Grant pick-and-roll. The intention was to target Kanter in the action with which he's struggled throughout his career defensively, though it has to be said that he played good defense against the Thunder.

With Harkless and Aminu defending the ball screen action, it was a natural switch for the Trail Blazers, as Aminu isn't all that much worse off against George on the perimeter than Harkless. Still, George does a good job lowering his right shoulder to slip past Aminu and get into the paint, where he draws help before kicking it out to a wide-open Schröder. The shot missed long, as so many of Oklahoma City's spot-up attempts did over five games. Schröder himself hit just three of his ten catch-and-shoot jumpers in the series and has generally been a below-average shooter throughout his career, which opened up a lot of opportunities for Portland to help elsewhere. Schröder, in fairness, was hardly alone in that regard.
Despite what we know of the final result, the late comeback was still well out of reach for the Trail Blazers as they got their first possession in this final period of the game. Down eight with just about three minutes left, there were barely enough possessions for them to be able to make it a game down the stretch, so they moved quickly. An early isolation for McCollum wasted very few of the precious seconds ticking off the clock.
McCollum came into the fourth quarter with just seven points on 3-for-11 shooting in what had been a relatively abysmal game for him to that point. When the lights were brightest, however, he came through, with ten points in the fourth quarter and six of Portland's final 13.
Oklahoma City had a lot of success throughout the fourth quarter attacking Curry, who was mostly unable to hold up against Westbrook's physicality or George's height and shotmaking.
Clinging to a six-point lead late, they went back to that well, but Curry did a better job by avoiding the switch altogether. Against a non-shooter like Westbrook and a screener like Schröder, who isn't really looking to set a solid screen in that spot, Curry's own physicality won out, as he jammed up on Schröder and created space for McCollum to duck under the screen. Jam-Under coverage is relatively rare across the league, but it works in cases like this one, where Westbrook can't really make Portland pay from outside.

Westbrook's time management was particularly poor in these last few minutes, as this shot came with eight on the clock. A midrange jumper is always going to be available to him; if that's the shot Westbrook wants, it makes more sense to run the shot clock down as far as possible, but this is part of the yin and yang of his game. He plays with a brashness that either works out spectacularly well or spectacularly poorly. Like a gambler who only plays the numbers in roulette, the odds came back to bite Westbrook in nearly every game of this series, as even his very best performance only produced a 50 percent shooting performance.
Much like the Thunder did on their offensive possessions, Portland had a particular target in mind when they had the ball, but it wasn't any of Oklahoma City's trio of suspect perimeter defenders. Instead, it was Grant, who is the 1B to George in ranking the best defenders on the active roster for the Thunder and would not have been many coaches' choice for late-game isolations.
Across these three fourth quarter possessions in which the Trail Blazers targeted Grant on a switch, including one with 2:45 left in the game, Oklahoma City stonewalled Portland each time.
After Grant spiked Lillard's layup into the floor so hard that it may have still been dented the this morning, George was on the receiving end of a dubious foul call but missed both free throws. Former Trail Blazer Rasheed Wallace had a famous three-word phrase that certainly applied in this situation. However, another 30 seconds fell away and Portland was still multiple possessions behind with the clock bleeding its way under two minutes.
George's missed free throws kept the door open for Portland, but they were still in full-blown catchup mode, as McCollum sprints down and launches an early transition three that doesn't even draw iron. Oklahoma City controlled the ball with another 24 seconds ticking away in Portland's first chance to close out the series, but Westbrook committed another cardinal sin for a leading team late in a game as he charged into Lillard.

For some unknown reason, Westbrook started his drive with 14 seconds on the shot clock, saving the Trail Blazers yet another bundle of seconds that would become immensely valuable at the end of the game. Between this play and the midrange jumper earlier, Westbrook's gambles gave at least 10 extra seconds to his opponents, which was all Lillard needed to drop the dagger at the end of the game.
Portland continued their theme of attacking suboptimal matchups on the next possession. Lillard already has Schröder attempting to defend him but brings Curry up, anyway, to get the switch with Ferguson. Lillard had been carving up Schröder throughout the game, as the German point guard was unable to match Lillard's quickness and strength. Ferguson does boast the tools to bother offensive players, as he does here, forcing Lillard to pass out of his shot after he didn't get the foul call he wanted.
Westbrook, who was instrumental in the Thunder's run to take a 15-point lead earlier in the frame, wasn't entirely ready for the pass to be thrown to McCollum. The Portland guard jetted past a lunging Westbrook to finish a short floater and cut the lead to four.
On Oklahoma City's ensuing trip down the floor, they ran one of the only actual set plays that didn't just involve hunting a specific switch in isolation or pick-and-roll. Grant and George set consecutive Twist screens for Westbrook to get downhill toward the rim, which drew a lot of attention, as expected.

Grant set the first screen to Westbrook's right and then rolled down the left lane line to the rim, while George stepped up to twist Westbrook back toward his left hand and into the middle of the floor. Westbrook crashed into the paint and found Grant underneath after drawing the defense to him, but Grant came nowhere close to finishing and didn't have the awareness in that spot to find a shooter on the outside. Even Aminu, George's defender, crashed in on the action underneath the rim, but Grant never saw George open on the perimeter.
Grant was phenomenal throughout this entire series on both ends of the floor. He knocked down his open shots when they came to him, hitting nine of his 13 unguarded catch-and-shoot attempts, and was a menace defensively across a number of matchups. However, he's a poor non-dunk finisher around the rim and doesn't have much playmaking in his toolbox, which made this specific play difficult for him to make. To make matters worse, Westbrook committed a foul on Harkless on the rebound, putting two more points on the board for Portland without any time run off the clock.
With the game down to one possession, Donovan called his first timeout of the final two minutes with 1:22 remaining. In the moment, the timeout seemed to be early in the proceedings, considering the game looked like it was going to come down to the wire after a run by the Trail Blazers brought them back within one possession. Additionally, the timeout gave Portland the chance to change up their lineup. The likely candidate here would have been pulling Curry, whom the Thunder had hunted relentlessly, but Stotts left him in.
As predicted, the Thunder went after Curry again, but this time he did one better than blow up the screen. Curry knocked the ball loose from George's grasp and fell on it, securing possession for his team in what was the biggest defensive play of the game from one of the least likely sources.
Portland went without a timeout and again chose a rather strange matchup to attack, with George defending McCollum.

McCollum made it work with the jumper near the top of the key, but the process here is, once again, befuddling. This was the second possession in the last few minutes in which Portland decided to attack George or Grant, rather than literally anybody else on the floor. While this one worked out, it was a questionable decision at best in the moment.
Now tied at 113, Oklahoma City couldn't have used their final timeout this early, so they came back with a Westbrook-George ball screen action. As before, Portland jammed the screen up toward the three-point line and ducked under on the ball, eliminating any need to switch without giving up anything dangerous.
George re-screens for Westbrook after the first ball screen fails to create an advantage, but that screen goes nowhere as well. Rather than pop to the perimeter and leave Westbrook to his own devices, however, George "rolls" before quickly cutting back toward Westbrook for a dribble handoff. The swiftness of the DHO forced a switch from Portland and George was able to hit the jumper over the top of McCollum, who doesn't have the height to contest George in that spot.
George had an outstanding season with shots similar to this one. Like a certain combo forward who used to don the Thunder blue, George was consistently able to shoot over the top of smaller defenders, a skill that wasn't all the way developed in previous seasons. That dangerous addition to his game propelled him to the best year of his career, even if things fizzled out poorly in the playoffs. Some of the Thunder's late season failures can be blamed on an injured shoulder for George, though certainly their team composition didn't put them in the best place to win either.
Facing another two-point deficit, Portland calls timeout after George's jumper swishes through the net with 39 seconds on the clock. The 2-for-1 opportunity was staring them in the face; whether they scored or not on the next possession, they'd have a chance to play standard defense on the possession after that, then figure it out with their final timeout and the foul game perhaps ahead of them. Stotts drew up the wonderful "get out of Lillard's way and let him go to work" play, which worked to perfection.

Schröder, who was mostly ineffective throughout this series defensively, offered little to no resistance to Lillard as he waltzed to the rim. Lillard was wonderful in this game no matter who was in front of him, but he had to especially relish getting after Schröder, who mocked his celebration in Oklahoma City's Game 3 win.
Oklahoma City played out their final offensive possession, electing not to call timeout and set up a specific play. Westbrook drives into the defending Aminu, who might have gotten away with a foul as he brought his arms down on top of Westbrook.
The Thunder probably have a legitimate gripe with the officials on this one, as Aminu had his hands up for a time but brought them down on top of Westbrook during the drive. In any event, Westbrook couldn't finish the layup and didn't get the call, which set up the final possession of the series: the walk-off 37-footer to send Portland into the next round.
There is no analysis for something like this. Put simply, this was one of the best shots in NBA history. It was Dame Time, and while a metric ton happened before we got to that point, he delivered right on time.