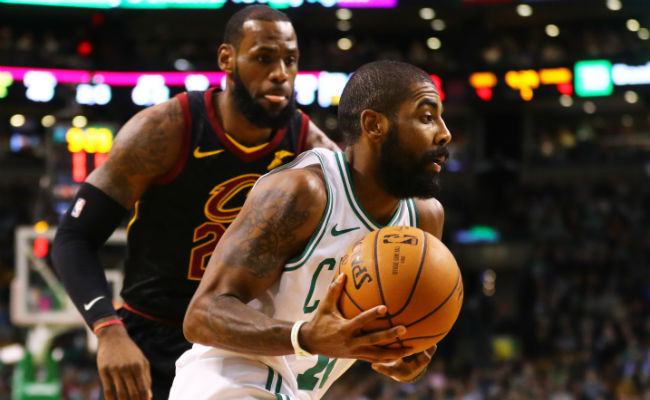 While the Cleveland Cavaliers blew it all up in a last ditch effort to retool its roster at the trade deadline, other favorites in the Eastern Conference did much less. The Raptors and Celtics essentially stood pat despite some rumors, instead watching as the Cavs traded out Isaiah Thomas and Dwayne Wade in an effort to get younger and, hopefully, better defensively.
The Cavaliers' big moves made headlines around the league, but apparently not in Boston. According to general manager Danny Ainge, the Celtics aren't worried about what the Cavs are doing at all.
Kyrie Irving didn't seem all that interested in talking about the Celtics' Eastern Conference rival, either. Irving was asked what he thought about his former team's deadline deals and he didn't have all that much to say.

The Celtics don't really seem all that worried about not making many moves at the deadline, either. Here's Irving talking about how the potential of getting back Gordon Hayward from his broken leg is the only roster addition the team needs.
It's a nice attitude to have, and certainly a sign that the Celtics think they have the right team to make a big run this postseason. But for all the claims that they're not paying attention, what the Cavs do does matter to the Celtics. There's still a great chance that they'll see each other in the postseason.