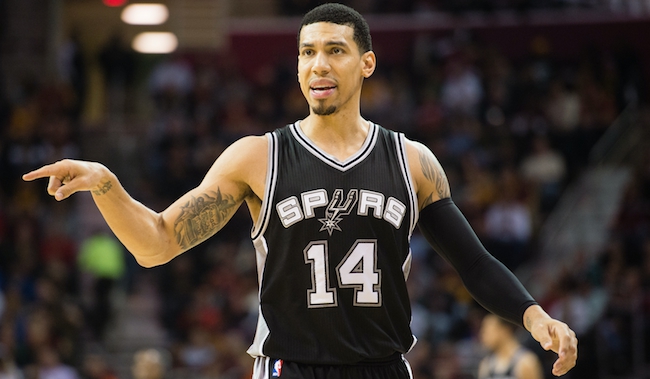 Many league followers were surprised when Danny Green signed a four-year, $40 million contract with the San Antonio Spurs. Was a relatively anonymous and obviously limited wing really worth an eight-figure salary?
Definitely. In fact, we were shocked when the 28 year old re-upped with San Antonio at that number. In a league low on proven two-way wings and possessing a skyrocketing salary cap, Green could have commanded a few more million dollars per year – at least. But like Tim Duncan and Kawhi Leonard, he took a one-for-all approach to free agency last summer, accepting a hometown discount to stay with the Spurs that he publicly deemed "market value."
Eight months later, though, Green's modesty rings much truer than proponents of his game anticipated. He's shooting a poor 33.4 percent on three-pointers this season, and is currently embroiled in a dismal 5-of-37 stretch from beyond the arc. His only make on nine long-range tries during San Antonio's hard-fought win over the Oklahoma City Thunder on Saturday was of the wide-open, stand-still variety.

Unfortunately for Green, his defender won't always be a reckless gambler like Russell Westbrook. And that's why Gregg Popovich had some typically sage and sarcastic advice for his sharp-shooter after the game.
Green has been an integral cog of the San Antonio machine for years. His ability to stretch the floor has taken on an even greater meaning in 2015-16 as the Spurs, with a fully-evolved Leonard and prime LaMarcus Aldridge, rely more heavily on ball-stopping post-ups and isolations than in years prior.
Popovich understands that, of course, and is giving Green some much-needed encouragement to help him through his current slump. Tim Duncan did the same in a more roundabout way a couple months back, too. And eventually, this unceasing support will propel Green to his real shooting ability for a sustained amount of time – the Spurs just hope it happens to come in time for the playoffs.