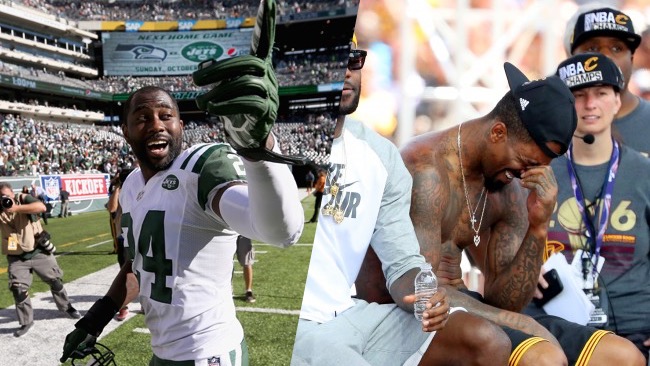 The 2016 NFL season hasn't exactly been kind to Darrelle Revis. The All-Pro cornerback was torched by Cincinnati Bengals wide receiver A.J. Green to the tune of 12 catches for 180 yards and a touchdown in Week 1, and on Thursday night, Revis yielded an 84-yard touchdown catch to little-known Bills wide receiver Marquise Goodwin in spectacular fashion.
With that in mind, NBA swingman J.R. Smith took to Twitter to fire off a shot about Revis on Thursday evening.
While Smith's comments surely generated a chuckle or two on the internet, the current free agent and 2016 NBA Champion was quickly put on blast by Revis.
Revis, who happens to be a seven-time Pro Bowl selection and a four-time All-Pro, went straight for the jugular with Smith in this particular comment, making reference to his Hall of Fame profile against that of Smith on the basketball court. To be fair, Smith served a very solid (and occasionally spectacular) rotation player for the Cleveland Cavaliers this season, but in the same breath, he certainly does not boast a list of athletic accomplishments that can match Revis stride for stride.
In the end, Revis did clean things up a bit, sending this follow-up in Smith's direction.
Athletes often receive criticism from fans and spectators after coming up short on the field, but in this case, Revis lit up an NFL "fan" that just happened to be quite famous for his own athletic work.