In 2002, the Sacramento Kings controversially missed the NBA Finals. They were one game away from what would've been the Kings' first Finals appearance and, potentially, championship in their history. The team went 61-21 and featured the likes of Vlade Divac, Chris Webber, Peja Stojakovic, and Mike Bibby. Sacramento took the NBA by storm and the cowbells that rang throughout ARCO Arena were as noisy as they've ever been.
Since that moment, however, success has been hard to find and coaches have moved in and out. It was a lottery team that never seemed like they'd make it over the hump. From Rudy Gay, to Tyreke Evans, to DeMarcus Cousins, Sacramento perpetually possessed what looked like pieces that could bring them back to prominence.
But they couldn't seem to cultivate and harness talent or get the right personalities to mesh in order to see the team flourish. Cousins, for example, was constantly at the center of an organization in turmoil and had to endure seven coaching changes in his eight season stint with the Kings.

Cousin's last coach before his trade, Dave Joerger, didn't seem to steer him in the wrong direction. Cousins actually expressed interest in staying as Joerger and company were trying to re-tool and re-shape the Kings from the ground up. However, Cousins would end up being shipped off before he even really knew what had happened.
Joerger, Sacramento's second-year coach, has not only seen his best player get traded before he could see out his first season, but he was thrown into the fire after coming from a seemingly stable, less-hostile environment in Memphis. With Joerger comes years of experience — his basketball roots come from his father, Joe Joerger, with whom he used to watch game film with as a child. It was there that he would fall in love with coaching, while his father was coaching basketball and teaching him the game.
"I used to go to coaching clinics, watch VHS tapes of different coaches, and it was just easy because my dad was a coach," Joerger told DIME. "Basketball has just always been at my house."

From there, Joerger would play college basketball at Concordia College and Moorhead State, and shortly after his playing career he would take on positions in the midwest for the Dakota Wizards and Sioux Falls Skyforce. Spanning his time in the International Basketball Association, the Continental Basketball Association, and what is now known as the NBA G League, Joerger won titles in 2001, 2002, 2004, 2005, and 2007.
After being one of the most successful coaches in NBA's "minor leagues," he joined the Memphis Grizzlies as an assistant until Lionel Hollins was fired in 2013. At that point, Joerger would take on the role of head coach for the Grizzlies, earning Coach of the Month honors in both January and April of 2014. Three seasons went by as Joerger kept Memphis as a perennial playoff contender. However, after the 2015-2016 season, Joerger's contract was not renewed and Joerger was let go by the Grizzlies.
Now in Sacramento, Joerger has a new outlook on his team and the game today. In many ways, this Kings team matches the teams he's won with prior to his stop in Memphis. Built around a young core with a few veterans that can help guide the way, Joerger's playing 10 and 11 guys a night, trying to get everyone on the court and get some in-game experience. On top of that, Joerger's trying to implement a newer style of play combined with that hard-nosed approach that was engrained in Memphis.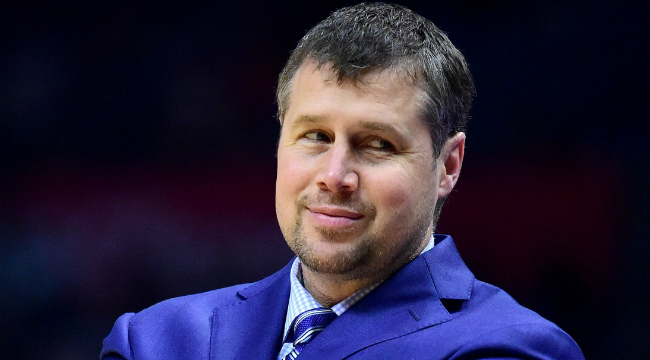 "There's more stretch guys, the court is more open, you don't see three-out, two-in offenses very often, there's less off-ball screening and more on-ball screening," Joerger told us about the changes he's seen across the league. "A lot has changed, but as coaches we adapt and we're always looking to maximize what we can do."
Adding in veterans like Vince Carter, Zach Randolph, and George Hill have given the Kings proven leadership within the locker room that'll help guide players along. Joerger worked with Randolph in Memphis and knew he was the type of player this team needed to assist with the growth and progression of this young team.
"He knows how the system works, so if players have questions or don't understand what's going on, he's always there to explain why and how we're doing things," Joerger said. "Secondly, all of the lessons that he's learned as a pro and playing at such a high level for such a long time in this league, he's just got a natural feel for the game that he can share with younger players."

Randolph, Hill, and Carter can help the rookie-laden squad in gaining confidence, identifying holes in their game, and doing it with a peer-to-peer interaction that's more honest and relatable. Obviously, the transformation of this team isn't going to happen overnight. But the backbone of a franchise, with plenty of optimism and hope, has already begun, and the pressure of development and seeing the optimism through is shaped by Joerger.
Joerger says he keeps an open-door policy and makes sure to communicate expectations as quickly as he can to each individual player. He wants every player to be given an opportunity to succeed and thrive, and in order for that to happen, he feels every player needs to feel confident and comfortable while he remains as approachable as possible.
"I always try to communicate as much as possible, day by day, week by week," Joerger told us. "You want to make sure you have enough minutes for your young guys and veterans, and I think you're seeing that. We're playing 10, 11, maybe 12 guys a night. We want to see what we have for the future and moving forward but our goal is to compete and get better each and every game, each and every quarter."

Aside from coaching and helping the Kings win on the court, Joerger has worked to help the community in Sacramento, just like he did in Memphis. Most recently, he ran a backpack drive for kids in need and a coaching clinic for those in the area looking to learn from other professional coaches, including himself. His foundation, which holds other special charitable events, sets out to help underprivileged youth get experiences and opportunities they may not already receive.
"I just want to help people, I believe it's very important to help wherever and whenever you can," Joerger said. "Biblically, you just always try and do good work without people knowing or recognizing. But, I was motivated by David Porter, one of my mentors who's at the Stax Museum in Memphis. He told me, 'As you do things, you do need to make sure you're being seen at this point, because you can be motivation for other people to do more good in the community as well.'"
Joerger is trying to influence his players with his positive attitude, giving nature, and incredibly humble demeanor. As the Kings are in the process of starting fresh and looking towards the future, you can be confident that Joerger will work his hardest to put an emphasis on being the best player possible on the court, and the best person possible off of it.