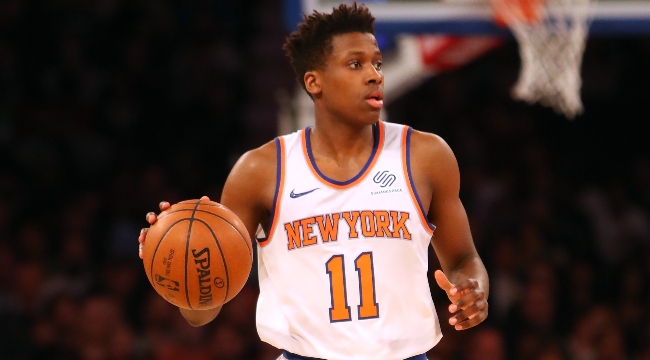 The biggest mystery at the top of the 2017 NBA Draft was French point guard Frank Ntilikina. He had a physical profile as a tall, long point guard that would make any draft analyst salivate, along with a basketball IQ beyond his years, near-limitless defensive potential, and some impressive outings while suiting up for SIG Strasbourg. But of course, like basically every rookie point guard — especially one who was on a team as weird as the 2017-18 New York Knicks — his first year in the league had its ups and downs.
It's fair to wonder plenty of things about Ntilikina, like whether he's even a point guard, especially as he grew an inch during the summer. Now standing 6'6, Ntilikina said during the Knicks' media day, "I've been working a lot this summer on my body. I grew too. So I see my body is changing. It's exciting to play a different position. Coach [David] Fizdale is really not having straight positions. It will be exciting that I will be able to go out at stronger guards and small forwards. So, I'm just going to keep working on that."
Through two games as a sophomore in the league, Ntilikina has been… kind of whatever (this is an official phrase, to be clear). He hasn't been a world-beater or anything for the 1-1 Knicks, but he's started both games and is averaging seven points, three rebounds, three steals, and 2.5 assists in 32 minutes per game. The numbers don't really mean all that much, though, because with a second-year point guard two games into his time under a new coach, the numbers are a bit misleading.
Ntilikina is still trying to figure out a role under Fizdale, just like every other player on the Knicks. In a place as demanding as New York, that isn't always a luxury that former lottery picks are afforded, but as Fizdale said on Saturday before the Knicks' game against the Boston Celtics, the important thing is for Ntilikina to get time to grow into a role.

This has been a fairly common sentiment by Fizdale, who seems to understand that the Knicks aren't exactly a championship contender this year. That's especially the case as Kristaps Porzingis works his way back onto the floor from a knee injury, if he even makes it back this season. Fizdale wants the Knicks, before they start trying to winning games, to figure out exactly what their young players are, whether that means having Ntilikina fill in roles based on what the team needs in a given game or, say, letting Kevin Knox work through mistakes that he might make as a rookie.
While this mantra might be more associated with one of their division rivals, "trust the process" sums things up in New York this year better than anything. Before a basketball team can be good, it needs an identity, and as of now, the Knicks don't have an identity. That's fine — a young team under a new coach isn't supposed to have a fully-formed identity after two games, so Fizdale is happy to figure out exactly what New York is outside of a bunch of guys who play hard.
This might be more true with Ntilikina than anyone, as he has plenty of talent but needs to figure out exactly what his role is going to be going forward. Fortunately for him, his coach is taking the best possible approach to ensure his success.