For some retired NBA players, the transition to civilian life can lead to a serious existential crisis. As it turns out, life after basketball comes with all sorts of uncertainties: How to fill all that free time, how to redirect that competitive fire, and, if you were smart about your money, how to wisely invest some of that considerable wealth you amassed during your career.
If you're looking for a model of how to do it, there are few better examples than Spurs legend David Robinson. The Hall of Fame center has been on a mission since he hung up his sneakers in 2003. The first thing he did was go back to school to earn his business degree, and since then he's built dozens of schools for underprivileged kids around Texas. Robinson also started a private equity firm to help fund the schools and various other philanthropic endeavors.
The two-time NBA Champion also owns a small stake in the franchise where he spent his entire NBA career, which allows him to stay abreast of all the inter-organizational machinations. We caught up with The Admiral earlier this week to talk about his partnership with Dove Men+Plus Care for March Madness, the state of the Spurs and the situation with Kawhi Leonard, his vision for taking the Carver Academy global, lasting memories of the Dream Team, and much more.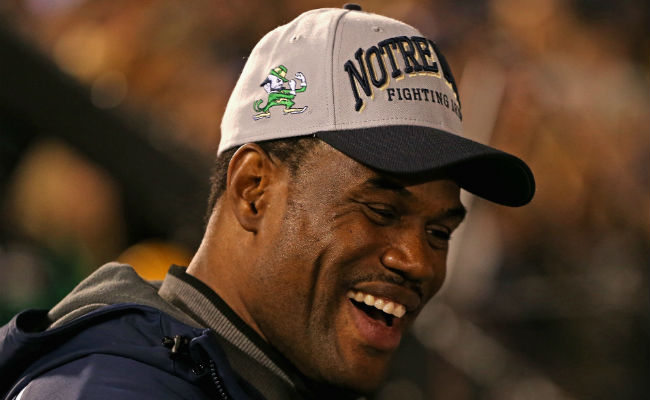 UPROXX Sports: Tell us a little bit about this partnership with Dove for March Madness.
David Robinson: Dove Men+Care, our goal really is to illuminate the impact of the caring fans. So, we put together what we call the "Real Strength Manifesto." It's just talking about why the fans mean so much to us and how they've impacted us, whether it's March Madness all the way to NBA. We see these families, we see the kids, we see how committed they are to the kids and, every game, how they encourage us. It's just a fun way to acknowledge the fan impact.
You're obviously no stranger to March basketball, having led Navy all the way to the Elite Eight in 1986. When you're filling out your bracket, do you have a soft spot for the Cinderella teams there? And, if so, have you pegged one for this year?
I'm always on the lookout for the upsets because I know they're going to happen. And this year's probably the worst of all years to pick them because there's going to be ones no one can predict and probably more. My bracket always gets torn up by the end of the tournament, so there isn't anything different on this weekend.
Let's talk about the Spurs for a little bit. Obviously, there's a lot of basketball left to play, but this could be the first season that the 50-win streak gets broken, and it also could be the first time they miss the playoffs in the last 20 seasons.
Oh, wow. Don't even think that.
I know nobody wants to think about it, but what kind of impact do you think that will have on the organization, and do you think that there will be any adjustments that need to be made going forward?
Well, there definitely will be. Obviously, our injury situation played a huge role. Our bench has had to shift our lineups quite a bit. We've got players that are playing so hard. They've been great. To have the record that we have right now, to be in the thick of the hunt given what we have to do with our lineups is nothing short of amazing. But, who knows? If we get those guys back, if we get Kawhi back at full strength, we get Pau [Gasol] back at full strength. You know, Tony [Parker] is looking great right now. We could make a pretty good run at this.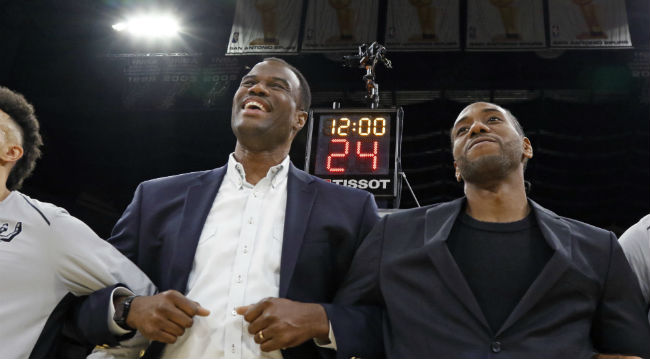 Speaking of Kawhi, he's expected to return soon. Obviously, there's been a lot going on on that front with the rumors of discord between him and the organization. Was that relationship as tenuous as it seemed from the outside looking in? What was your take on that whole situation?
Obviously we can start picking apart every little thing. Last year, they were picking apart the relationship with LaMarcus [Aldridge] and now LaMarcus is having one of the best seasons of his career. And everybody's "Oh, okay! I guess everything was okay." Everything wasn't perfect, but you work those things out as a family. And I think it's kind of the same thing here.
Kawhi is our future. He is the Spurs, and so we're going to protect him. We're going to give him the flexibility to do what he needs to do to get healthy and make sure he's healthy. That's a part of what it is. Now, does everything go smoothly all the time? No. It doesn't. But he's our future, and we're not going to do anything to risk his health.
I think that brings up a good question about the Spurs' culture, in general. You've been around since [general manager] R.C. Buford has been there. And, then later, with Gregg Popovich. From your perspective, what has been the key to that coveted Spurs culture that we hear so much about when we talk about this franchise?
I think the number one key to it has been one mindset from top to bottom. I think that everyone is about winning. And, I think from ownership to management to players it is about "What can we do to make this team better?" And that sense of really rooting for each other in the end. If you watch Popovich and R.C. Buford, they've always done things that were in the interest of the player as well as the interest of the team. But it's just good to know that everyone's looking out for each other. I think that culture of trust and that culture of … just a winning culture; a winning mindset has really permeated that organization for 25 years now.
In many ways, the Spurs' philosophy toward roster construction is in direct contrast to a team like the Sixers, for example, who really wanted to tear things down and prolong the rebuilding process over several years and really embraced losing to improve their lottery positioning. The Spurs have never really been keen to do that. So it's interesting how those two realities can coexist in the same NBA, where we have these two kind of competing philosophies. What are your thoughts on that?
No question. The Spurs think counter-culturally. And that's led by Pop and R.C. Those guys are very logical, very straightforward, and they believe in building something, building something with some substance. That takes time. That takes trust. We take guys, whether it's a Cory Joseph or whether it's [Jonathon] Simmons, we will invest in theses guys.
Now, we've got some great young guys — Kyle Anderson. We take the time to build into these guys, and if we can't keep them, then we can't keep them. They've got great opportunities. Some of them got great opportunities at other places. But we believe that building that organization takes time. It takes trust, and that's been a successful formula for us so far. For a while now.
You're obviously one of the best big men in NBA history, so I wanted to ask you: Who are some of the next generation front-court guys that you like to watch today?
There's some phenomenal guys out there. Guys like Anthony Davis are fantastic. Karl-Anthony Towns is coming into his own. Some of the guys are really doing a great job. Joel Embiid is starting to show why he was a top pick. I love seeing the emergence of the big guy. I love the fact that those guys are starting to dominate both inside and out. They're rebounding. They're blocking shots. To me, this is when the game really gets fun.
It has certainly been a turn around. Just a few years ago, we were looking at the point guards and the wing players as the future. And, in the past couple of years, the center position has really come back to the forefront. You had one of the highest scoring games of all time, 71 points, and as a center. Of those guys you mentioned, can you see a scoring explosion like that again from a big man? And if so, who do think would be the most likely candidate to do something like that?
Oh, wow. That's a great question. I think all these guys can really shoot. So, maybe a Karl-Anthony Towns because he can go inside and out. Anthony Davis because he can travel down that floor. He can run. Outside of that, I don't know if I've seen a guy like Kevin Durant. I don't know what you call him. The guy's seven feet tall. He's a guy that can clearly put up numbers like that, if that's what he wanted to do. Of course, he has to play with some other great scorers. But phenomenal talents. I've met lots of guys. I won't say, "lots." But there's a handful of guys that could potentially do something like that.
You've been adamant about building a life after basketball. You went back to school and got your Master's Degree. You've started a venture capital firm. What advice do you have for players who are making that transition to the next phase of their lives?
What I tell players is to start early. While you're playing in your career, find out what your passions are and build on those passions. For me, it was coming to the finance world. It's not going to be my specialty. I'm not going to be the expert in the room when we go into these deals. But, there are things that I do extremely well. I bring the right people into the room. I'm able to bring the vision of, "Hey, why are we doing this? What are we doing in the community where we're investing?"
I have great passion for those things because I've invested in our community for the last 25 years. I know my strengths. I know what my passions are, and I bring them to the table, and we have some wonderful guys, wonderful key people who understand why the deals make sense. And so, I tell guys, "Just stick with your passions, man. Just build on your expertise, and if it takes 10 years or if it takes 20 years, be patient. Learn what you need to learn and keep growing."
I also wanted to ask you about the Carver School, and about the other schools that you've been building around the Texas area. Are there any new developments with that that you'd like to talk about?
Wow. Yeah, that's been growing like crazy. We started Carver Academy as a private school 16 years ago, 17 years ago now. And we operated it for about 10 years as a private school, and then we joined up with a charter management organization called Idea Public Schools. And now, we've been able to grow it tremendously. We had 120 kids seven years ago, and this year we have over 10,000 kids in our school system in San Antonio and 40,000 kids across Texas. And we have a track record now of over the last 14 years sending every single child matriculated to college.
We build our schools in lower-income neighborhoods, and we serve largely minority families, and it's obviously open enrollment. But we build it where we can do the most good, and it's been phenomenal. So, that's been a great passion of mine, and we're building as many schools as we can. We're going into El Paso, Texas. We're going down into Louisiana and Baton Rouge and New Orleans. So, growing as fast as we can because we want to get to as many of these children into college, get them prepared for college and get them through college as best we can.
That started, obviously, as a single school, and it's already expanded to what it is today. Do you see it growing even more, maybe going national at some point? Maybe even global?
Oh, without a doubt. No question. From a quality standpoint, we've been able to scale quality. And to be able to continue to go from a small number of kids to now, like I said, almost 40,000 kids and send every single child to college, that has been a good feat. That's what public schools are really looking for. They're looking for how do we give a quality education to every neighborhood. Really, kind of break down some of these achievement gaps. Obviously, people who live in affluent neighborhoods are going to get better educations.
They start off at a younger age, at kindergarten even, and they go to a quality pre-K or quality kindergarten, and then by the time they're in sixth grade the gap is two to three years. We need to close that gap. We need to get these kids off to a good start early and prepare them so that when they get to junior or senior year, they're taking A.P. courses. By the time they graduate, our kids at our schools have taken on the average about 10 A.P. courses. We believe in A.P. for all kids. And so, they're ready for that next step, and we believe that is possible for all kids.
And how much does technology play a role in that?
You've got to keep it in the right perspective. You can enhance the educational process. But, it really is about the great teachers. It's about providing the right atmosphere, the right motivation, imparting that on the kids the right way. I mean, there's a lot of factors involved, and the technology can assist in that. But, certainly, you can't rely on the technology to be the difference maker.
If you wouldn't mind indulging in a little bit of nostalgia, I have to ask you about the Dream Team. When you think back on it, what's your last impression of that experience?
I think of it as just a great growth time for me. Being around the best players in … I think I learned from being around Magic [Johnson] and Michael [Jordan] and Larry Bird and watching…how does Karl Malone prepare for practice? How does he lift weights? His mindset. He was always our enemy, always beating each other up.
And then, all of the sudden, I get a chance to get the inside look at how this man prepares for a game. And that, to me, was invaluable. I think it helped me grow as an individual. And it was just a surreal experience being a part of one of the greatest, if not the greatest, team that's really ever been put together. That was such an honor, and I'll never forget that time together.