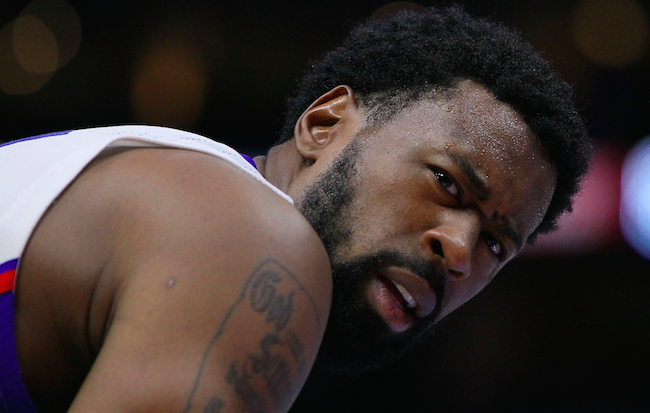 When Doc Rivers took over as the Los Angeles Clippers' basketball czar two summers ago, he called DeAndre Jordan the best defensive player in the league. Months later, Rivers compared the 26 year-old to Bill Russell. Obviously, the Clippers' coach is prone to hyperbole when it comes to Jordan. And though the 26 year-old jumping jack is indeed currently enjoying the most dominant stretch of his career, Rivers is still doing it again.
After Jordan pulled down 26 rebounds and helped limit an ill Pau Gasol to 2-of-13 shooting in Los Angeles' win over the Chicago Bulls yesterday, Rivers said the Texas A&M product is "clearly the defensive player of the year" and went so far as to question the sanity of anyone who believes otherwise.
Via Arash Markazi of ESPN Los Angeles:
"He's clearly the defensive player of the year," Rivers said Sunday. "If anybody else gets that award, we need to have an investigation. … What he's doing defensively, if he was doing that offensively, he would be recognized as the MVP or one of them, but because it's defense, no one notices."
Typically high praise. But it's also typically biased and ill-informed.
Without question, Jordan has developed into one of basketball's most impactful defenders since Rivers took the reigns before last season. He's a dominant rebounder who doubles as a devastating shot-blocker, and his understanding of timing in pick-and-roll coverage and help rotations has steadily improved, too.
He's a great defender. Jordan, though, was overvalued by voters in 2013-2014 when he finished third in Defensive Player of the Year voting, and not much has changed almost a full season later. Though the 6-11 jumping jack is boarding like gangbusters and swatting shots into the stands with usual aplomb, he also has room to improve defensively – a reality the numbers and eye-test bear out.
Consider that Los Angeles allows just 1.7 fewer points per 100 possessions when Jordan is running the floor as opposed to riding the bench. And while there's noise associated with on-off statistics, other metrics support his lack of overall influence compared to other Defensive Player of the Year candidates. Jordan's 1.4 Defensive Real Plus-Minus ranks just 69th in the NBA; opponents shoot a middling 49.2 percent against him at the rim; and a similarly mediocre 45.2 percent of his rebounds come uncontested.
For a guy playing on the league's 16th-ranked defense who's Defensive Player of the Year merit hinges on his rim-protecting and rebounding prowess far more than anything else, each of those numbers simply needs to be better. And that's before considering Jordan's relative weaknesses in basic defensive coverage.
There are just better options available for the postseason hardware than Jordan. The Golden State Warriors' tandem of Draymond Green and Andrew Bogut immediately comes to mind, as do Tim Duncan and Tony Allen. Not only do those players anchor three of the league's top-10 defenses, but the numbers support the narrative of their all-encompassing effect on that end.
Bogut and Duncan are first and third, respectively, in defensive RPM. Green's -6.7 on-off mark is the best one on basketball's best defensive team. And Allen boasts the league's top steal percentage while forcing his defender to shoot over seven percentage points worse than their average.
Jordan is a great defender, and deserves to be on the Defensive Player of the Year periphery. But Rivers' assessment of his center's performance lacks crucial nuance – namely, how it compares to those of his chief competitors for the award.
And obviously, Jordan's case doesn't quite stack up.
*Statistical support for this post provided by nba.com/stats.
[ESPN]