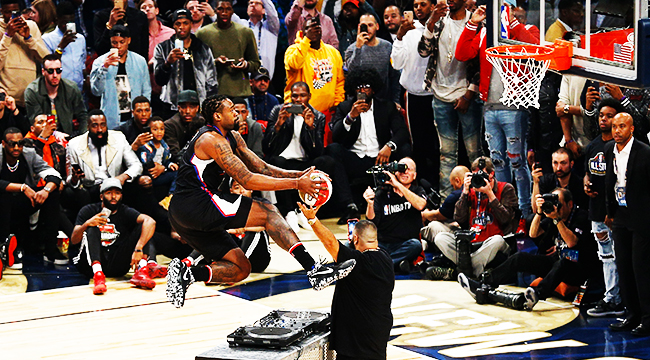 LOS ANGELES – If you compiled a historical compendium of transcendent DJ moments, you'd inevitably slant towards Kool Herc pioneering hip-hop in a Bronx Rec center or Grand Wizard Theodore inventing the scratch. Maybe you'd hone in on the advancements of Jamaica's King Tubby, the Daedelus of dub music, or U-Roy, whose toasting technique laid the foundation for the MC. You can't omit the essential genius of House music godheads, Larry Levan and Frankie Knuckles either.
But unless you're signed to "We The Best Music," you most likely wouldn't include 2017's All-Star Weekend on the list. Yet it's worth reconsidering how last year's dunk contest produced one of the most meta-moments in the history of the DJ. Specifically, the first round where DeAndre Jordan (DJ) jumped over a DJ booth to grab the ball from DJ Khaled, and successfully slammed it to the strains of Lil Wayne's "Go DJ." A perfect 10.0 score of irony. An absurd spectacle that warranted immortalization in bobblehead form.
Earlier this week, the Clippers gifted the first 10,000 fans to enter Staples Center with the bobblehead bronzing. Admittedly, my bobblehead criticism skills are rudimentary, but it strikes me as a commendable bobblehead with a miniaturist's eye for detail. Khaled wears a "We the Best Chain" and stares at his cellphone screen with a desolate moth-eaten stare. Modern art is a complicated beast.
In honor of the occasion, the Clippers invited me to speak with DeAndre Jordan about his love of hip-hop. After all, the 29-year old Houston native was raised on UGK and DJ Screw, Swishahouse and Scarface. There's also the time he got too distracted by 2Pac to answer a reporter's post-game question.
Due to the vicissitudes of the NBA schedule, our originally scheduled interview time got pushed back until after last Saturday's home game against Golden State. This seemed like a wonderful idea until Blake Griffin left before halftime with a concussion and the Clips got thrashed. Needless to say, if you have ever spent any time in an NBA locker room after a blowout, the players want to escape as quickly as possible. I've seen less awkward Nathan For You episodes.
So a planned 30-minute conversation about the merits of Wineberry Over Gold versus 3 'N' The Morning Pt. 2 became two minutes with Jordan slumped against a wall — while a nearby Steph Curry posed for photos with fans and G-Eazy lingering and ran his fingers through his hair.
DJ Khaled would be hard-pressed to call it the best interview, but sometimes you just need to appease the eternal purple flame of Big Moe.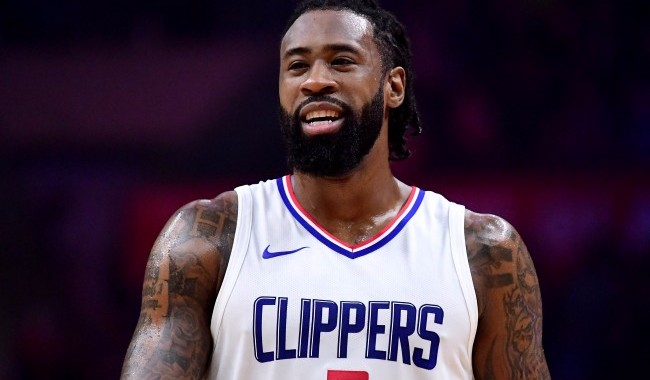 What's your favorite Screw Tape?
Man, Big Moe. [Let's give DJ the benefit of the doubt and assume that he meant Moe on the June 27th freestyle]
Can you rap every word of [Z-Ro's] "Mo City Don" Freestyle?"
Hell yeah! I'm from Houston.
Who are your five favorite Houston rappers?
Trae, Lil Keke, Scarface, Travis Scott, Marcus Manchild.
How important was Screw music and later Swishahouse to you coming up?
It was embedded in us from we were young and it's integral to Houston culture. For me, that's what I grew up listening to.
Has DJ Khaled ever given you any inspirational advice?
Nah [laughs]. Just at the All-Star game, he was like don't fall down –that was pretty good advice.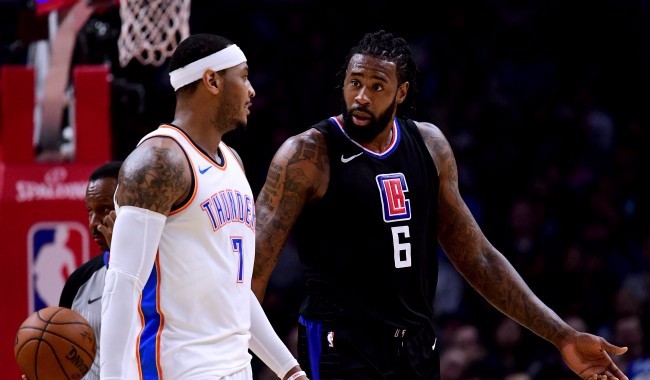 Favorite UGK song?
Goddamn. I don't know man, that's tough.
What do you listen to get inspired before games?
2Pac, reggae, Future or Travis Scott.
What do you think it is about 2Pac that's allowed his legacy to live on the way it has?
He was a poet. He talked about things that came to fruition and was very passionate. I love him.
Did you ever try to make music or DJ?
Hell no.
You never rapped with Lou Williams?
Nah, he's nice though. I like his CD. I'm not a rapper though.
What do you think connects music and sports?
It's the stories they tell that a lot of us can relate to that. We often come from a similar upbringing and a lot of the times we just appreciate the vibe.