Jack Winter: Defensive Player of the Year is the most subjective award in basketball. The collective's understanding of what makes a truly impactful defender has rapidly developed over the years and continues to do so, enough that it's a foregone conclusion that DeAndre Jordan – despite hordes of blocks and rebounds – isn't a serious contender for the award. There's just no consensus rubric for this one, making it more difficult than ever to decide on a group of worthy candidates let alone a winner.
But we should try anyway, right?
Martin Rickman: Well I guess we need to start with – what makes the Defensive Player Of The Year? Are we going purely on eye test? Do blocks, rebounds and steals even factor in? Or is it a matter of on-ball defense and locking guys down?
For my money, I'm going with Draymond Green. He's probably the best all-around defender in the NBA this year. He does a little bit of everything, and he can defend multiple positions. I'm not alone in this. Guys like Kevin Pelton are with me, and guys like Kevin Pelton are a lot smarter than I am. But I can entertain the case for a bunch of other guys as well. I think rim protection is important, and there are some great defensive post players this year. And solid defensive guards don't get their due.
Spencer, where do you fall on this? Is there one guy you're in love with for Defensive Player Of The Year?
Spencer Lund: It's hard to ignore Klaw. The only reason I'm hesitant on Finals MVP Kawhi Leonard is the injury troubles that kept him out of 17 games this year, including 15 straight when he was recovering from a fractured hand. Then again, what he's done since his return is astounding. His seven-steal game against the Warriors, including an outright robbery of Stephen Curry, is a marvel in two-way dominance. Opposing players are taking possessions off when Kawhi checks in and start mirroring their movements when they get the ball. Plus, it's been a while since a wing player won the league's DPOY, and defense on the perimeter is doubly difficult with the hand checking rules in place. That last wing to win it? Ron Artest for the Pacers in the 2003-04 season (the season before the Malice). I'm not saying Leonard is the pick, it's just where I'm leaning. Also, and this is in no way a slight on Dray, but he's sharing the frontcourt — at least in the beginning of games — with Andrew Bogut. Bogut, if you didn't know, is leading the league in defensive real plus minus at 5.64. The next two on the list: Kawhi and Dray.
JW: I began research for this discussion with several names in mind, and a couple hours of stat-digging and film-watching narrowed my choices down to an unsurprising trio: Green, Leonard, and Bogut.
There isn't a wing in basketball capable of more awe-inspiring defensive plays than the Spurs' best player. He combines incredible length with rare strength and rarer balance, and boasts the disposition and natural nuance to match. Kawhi is a monster. But the same reason you seem to be leaning his way instead of Green's, Spencer, is one of the main reasons why he's not my pick: Leonard's on-off worth to San Antonio since his return from a hand injury on January 16 just isn't reflected by the numbers. In fact, seven Spurs have a better defensive rating than his admittedly exceptional 98.0, suggesting that Gregg Popovich's bench is as influential to the team's awesome recent performance on that end as anything else. And that's nitpicking, of course, but it matters when we're dealing with candidates of this caliber. Another chink in Leonard's DPOY armor is that Synergy ranks him at just the 24th percentile in isolations – pretty shocking. I'm fully confident that the 23 year-old will win this award one day, but 2014-2015 isn't his year.
Before I voice my choice between two Warriors, though, a quick question: Am I nuts for giving Bogut very real consideration?
SL: No, Bogut – just as much as Steve Kerr and Steph's MVP ascension – is a big reason the Warriors are title contenders this year. You need a bruiser down low just as much as you did earlier in NBA history, except now they never touch the ball in the post and have to act as pick-only passers on the offensive end. But how much credence can we give to Green or Bogut when they play on the same team? I get that Kawhi plays for the Spurs, but if you cancel him out for his pedestrian on-off numbers in comparison to his teammates, how does the Green/Bogut overlap get overlooked? I'm tempted to bring a fourth guy into the discussion, who Jack has been salivating over long before the national press fell in love with him after Enes Kanter's horrible defense was traded to the Thunder. Yup, I'm talking the Stifle Tower himself, Rudy Gobert.
MR: It's easy to overlook Gobert with him playing for the Jazz, but his impact has been downright incredible. He rips down boards, piles up blocks, and makes things generally difficult for his opponent. It took some time to get Gobert comfortable, but it seems like his renaissance is not only real, but worthy of a hard look at first-team All Defensive Team honors. Jack, you're obviously an even bigger fan of Gobert than we are. What is about him that makes him such a good defender?
JW: Gobert is simply the best rim-protector in basketball, and pretty much every tool of analysis supports that reality. He leads the NBA in blocks since being made a permanent starter; opponents shoot a league-worst 39.1 percent against him at the rim; and he's 7'2 with a ridiculous 9'7 standing reach and the athleticism of a player far smaller. If Gobert had been in Utah's starting lineup since the beginning of the season, he might very well be a near consensus favorite for DPOY – that's how stingy the Jazz have been over the past seven weeks. With he, Leonard, and Green – not to mention Anthony Davis and Nerlens Noel – only beginning to enter the early parts of their prime, we'll be hand-wringing on this one for many years to come. Time on the bench dooms Gobert this season, though, and since that's the case, Bogut – who has played roughly 500 fewer minutes than the Stifle Tower – is regretfully out of the running, too.
But that there's any debate whatsoever Golden State's awesome interior intimidator might not be his team's best defender is yet another feather in the cap for Green, the player who's receiving my very unofficial vote for Defensive Player of the Year.
MR: Well, you said it better than I could Jack. I came into this thing hoping someone would talk me out of Green as my Defensive Player Of The Year, but all you did was talk me more into it. He passes my eye test, his metrics are nuts, and he shouldn't be penalized for having another good defensive player on his team. That just doesn't make sense to me. I'm sticking with Green too. Spencer, last chance – who are you going with? Can you talk me out of Green?
SL: I love Draymond Green, and I'd be perfectly content if he gets voted DPOY. He can guard four positions, and routinely switches onto point guards. There aren't many 6'7 (but really 6'5) forwards who can whisk a tough defensive rebound out of the hands of an opposing big, then sprint up the court for a coast-to-coast finish. Green can, and that's why the Dubs are prepared to pay the max this summer if – or more likely, when – he signs an offer sheet. But the fact Bogut is there to clean up boards, and take on some of the brutes in the paint makes me want to pass him over.
I wanted to introduce another player, besides Gobert, but – like Kawhi – he spends a lot of time on an island of perimeter D. Michael Kidd-Gilchrist is probably the only reason Charlotte hasn't yet been eliminated from the playoffs despite extended absences from Kemba Walker and Al Jefferson. Well, that and the fact they play in the East. But consider this: The Hornets only give up 96.3 points per 100 possessions when Gilchrist is on the court, and 103.6 when he's off. He's the only player with a net rating above 3.0 on the team who has also logged over 1500 minutes this season. Combine that with his shooting, and it's a wonder more voters aren't genuinely enthralled with Charlotte's security kit marketing ploy for the Defensive First Team.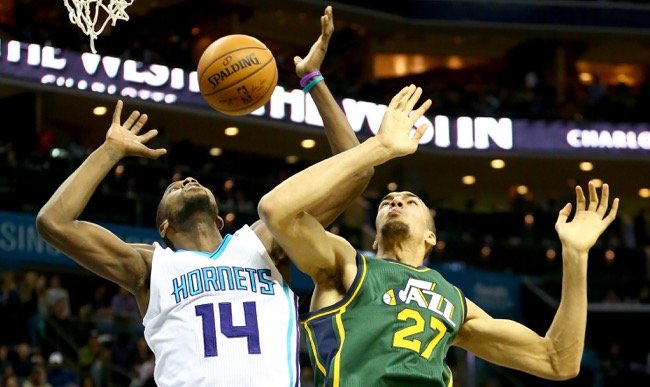 He's 13th in DRPM overall and fourth among all players considered small forwards, trailing Tony Allen (really a shooting guard) Dray (really a power forward, at least in Golden State's packages) and Klaw. His Synergy numbers are even lower than Kawhi (he's only ranked in the 66th percentile overall and is just average on spot-ups, which he defends over 27 percent of the time, the most of the categories they track), but I chalk that up to his position on the Hornets as their defensive ace who always guards the best opposing scorer, regardless of position; he's like Green in that he can guard three or four positions on the court. He's not my pick for DPOY, but I wanted him to get some DAP.
Green is my pick, but it's tinged with a little melancholy since I really want a wing defender to win it. That's not a slight on Green (who can also defend the wing), just my own issues with homogeneity. Plus, contemporary perimeter defenders are archipelagos, unable to hand check, and constantly battling blindside screens and rules that reward the ball handler a lot more than they used to. One of these years, one of the Tony Allens, Avery Bradleys, Kawhis, or MKGs are gonna nab the award. Just not this year.
JW: Don't get too upset, Spencer. The basketball world is growing increasingly comfortable recognizing the efforts of players whose primary assignments are lead ballhandlers as opposed to big men, and it's not just because we've developed the statistical nuance and technology to do so. Just look around the league – it's stacked with youngsters who are already elite perimeter defenders or have the chance to become one. Leonard and Kidd-Gilchrist lead that charge, but less popular guys like Bradley, Khris Middleton, Danny Green, and Andre Roberson help shepherd a wildly promising rookie group of Marcus Smart, Elfrid Payton, Andrew Wiggins, Dante Exum, and K.J. McDaniels, too. The league's defensive renaissance is already here, and its next step will come outside the paint when one of the players mentioned here follows in the footsteps of Artest as Defensive Player of the Year.
But nothing says modern NBA defense like Green, and that development explains his preeminent statistical worth even compared to worthy peers Leonard, Bogut, and the rest. The Golden State loud mouth is one of two players in the game with at least 120 steals and 97 blocks; ranks third in overall DRPM; rates in the 96th percentile of individual defenders according to Synergy; forces offensive players into combined field goal accuracy 7.1 percent worse than their average; allows opponents to shoot 46.6 percent at the rim; and has the highest on-off defensive rating discrepancy of basketball's top defensive team.
And it's that last achievement that's the loudest ringing endorsement of his award candidacy. Golden State has owned the NBA's stingiest defense from start to finish this season, mostly due to an ideal confluence of personnel and scheme – the Dubs litany of fleet-footed, long-limbed defenders allow them to switch screens on or off the ball 1-4 without worry, funneling everything to Bogut in the process.
It's the presence of Green more than anything else that allowed the Warriors to implement that ultra-aggressive and wildly successful strategy, and Golden State's realistic title expectations hinge on its two-way prowess. Would Golden State be good on defense without Draymond? Certainly. But truly great? It's unlikely, and that distinction – combined with overwhelming ancillary evidence of all types – is what should make Draymond Green a very deserving Defensive Player of the Year winner.