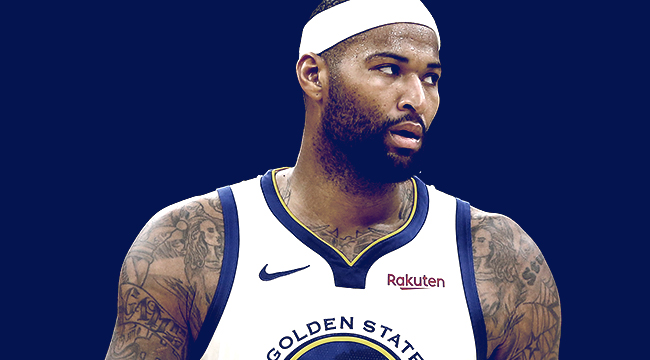 The debut of DeMarcus Cousins in the Golden State Warriors' lineup was supposed to essentially break the game of basketball. Five All-NBA players on the floor together for the same team, one of 30 in the league, really isn't supposed to be possible, but the Warriors found themselves in a unique position three different times over the last several years to make it so.
Steph Curry's ankles pushed him toward an extension that paid him $11 million a year for four years, two of which saw him bring home league MVP trophies. The cap spike of 2016 opened up enough space on the Warriors' books for Kevin Durant, then (and now) one of the three-best players in the world. And Cousins, a two-time All-NBA center, decided to join the team last summer while on his way back from a torn Achilles tendon. Cousins signing with Golden State wasn't the same as Durant, but it was met with a lot of the same reaction: "Really? Again?"
Now more than a month into Cousins' tenure with the Warriors, there are more questions than answers about how the best on-paper five-man lineup in the league is operating together. He's clearly still working his way back from the Achilles tear and looks more than half-step slow in most facets of the game. His individual skills are there, to go with the numbers, but the teamwide offense and defense have taken a hit since he was cleared to play in late January. Given the timing of his return coinciding (or correlating, depending on whom you ask) with the Warriors perhaps looking somewhat human, the question is there to be asked: Is Cousins making his team worse? And a follow-up: Does that matter?
The numbers are undeniable and the sample is getting larger with each passing day, but what's changed with the Warriors isn't entirely on Cousins. The Cousins Death Lineup — Curry, Klay Thompson, Durant, Draymond Green, Cousins — is giving up 119.7 points per 100 possessions with him on the floor since his January 18 debut, which is downright awful. The highlights of him getting turned around in pick-and-roll defense and losing sight of his man as he cuts to the rim or relocates along the three-point line have been on repeat on television and Twitter, to the point that it seems pretty easy to put the blame on him and move on.
The only problem is that the numbers are no better when he leaves the floor. When it's Curry, Thompson, Durant, and Green with a different fifth guy, they've been just as bad, to the tune of a 119.3 defensive rating. The Warriors aren't defending poorly with Cousins; they're defending poorly, period. Green put it best at a media session following Wednesday's practice.
"So many people are kind of looking at the starting lineup and saying, 'Oh, DeMarcus is in there and the defense is worse,'" Green said, per Anthony Slater of The Athletic. "But our defense has been horsesh*t no matter who's in there.'" He's not wrong about that, but there are a bunch of reasons why that's the case, some of which include Cousins and some of which don't.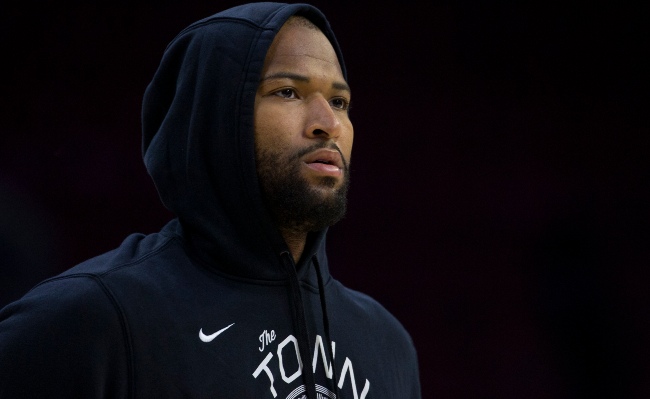 Cousins certainly has his defensive issues. He's never been quite as engaged on that end of the floor as he was on the other and the decline in athleticism after the injury has exacerbated that problem. He often compounds his defensive mistakes by reaching for the ball, putting him further out of position and more of a liability for his team. He's an ineffective help defender, too often splitting the difference between his man and the paint, leaving him in no-man's land. He's either slow to recognize holes in his team's defense or slow to react to them, but it hardly matters for the Warriors' purposes.
They can work with him to make incremental improvements defensively, but it's going to be a problem for them in the deepest rounds of the playoffs. Their ability to fly around, switch everything, and play on a five-man string falls apart quickly when one of those five isn't on the same page as the other four.
Perhaps the biggest problem is the fact that Cousins is just that: a big. On the perimeter, Curry's nothing special as a defender, but Golden State is able to make up for that because he can be hidden in the right matchup and is smart and quick enough to at least make things difficult on opponents. When Cousins is out there, they can't hide him. He has to be involved in nearly every defensive action — his position is literally called "center" because he's at the center of everything his team does on that end of the floor.
Cousins has to defend pick-and-roll on nearly every possession, especially against the smart teams who target him in that area. He's not quick enough to hedge and recover and picks up too many fouls to adequately switch onto perimeter players, especially the best scorers. If the Warriors are to see the Houston Rockets in the playoffs, James Harden will eat Cousins alive on a switch. There's a non-zero chance Cousins would average more fouls than minutes per game in that particular matchup.
The good news is that they have lots of time to fix it. If we're being realistic, they're not going to be tested in the first round of the playoffs — though if it happens, the Sacramento Kings might give them a fight — which gives them a little less than two months to get their act together on that end of the court. Integrating Cousins to make their defense one of the very best in the league is improbable, but they can more than make up for it offensively.
They can get into and win shootouts with the Cousins Death Lineup, as evidenced by their 119 offensive rating in the 152 minutes that group has played together. There are still questions about how he fits in offensively and whether his touches are taking away from the Warriors historically great offense, but they're still very, very good with Cousins joining his other four All-NBA teammates. When the playoffs roll around and teams are more locked in on what Golden State can do offensively, having Cousins as a failsafe option on a post-up or simply being able to run the offense through him for a few possessions will give the team another place to go. Things have bogged down for this Warriors team at times, so while Cousins might take away from their ultimate offensive ceiling as perhaps the best team on that end of the floor in NBA history, he also raises their floor in the playoffs in a significant way.
The Golden State armor is scuffed and is showing the wear and tear of four straight runs to the NBA Finals, but they're still the best knight at the tournament and, despite the scars, should come out on top once again.