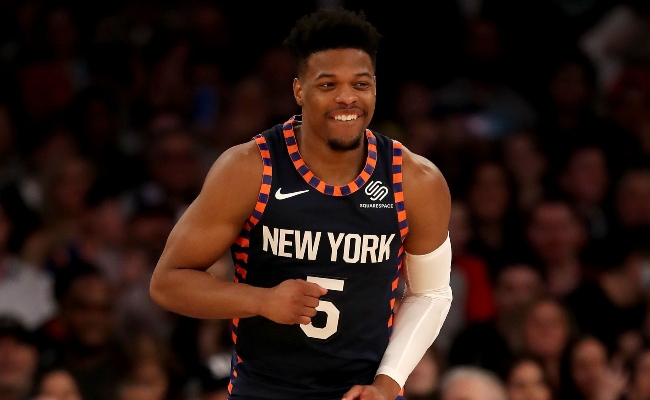 LOS ANGELES — Dennis Smith Jr. quite literally jumps out when you watch him play. His game is laced with prodigious explosion — a lethal first step and a signature crossover beget the ability to levitate, all of which produces jaw-dropping highlights on a nightly basis.
At just 21 years old with two years of professional experience under his belt, the North Carolina State product was expected to be a cornerstone piece for the Dallas Mavericks, which selected him ninth overall in the 2017 NBA Draft. But after the team got prized rookie Luka Doncic one year later, Smith was eventually shipped to New York, a major moment in his young career that could prove to be monumental, especially if he's running the point for a Knicks squad that receives a serious injection of talent this offseason.
With an eventful second NBA season in the books, Smith already has his eye on what will come next. But first, the talented guard is at the BAIT "Fight Klub" pop up in Los Angeles for the Mortal Kombat 11 launch party and to show off his Under Armor Basketball Anatomix Spawn "Sub-Zero" edition. They're especially relevant for Smith, who fancies himself a killer on the court and relishes the chance to finish opponents.
Dime sat down with Smith to discuss maturing on the court, playing with a chip on his shoulder, and the transition from Dallas to New York. We also played a little Mortal Kombat 11, and while it was a good time, Smith won every game.
Dime: Players who want to take over in big spots are usually born with that characteristic and mold it over their careers. Since your days at North Carolina State, you've proved to be from that mold. What goes into that for you?
Dennis Smith Jr.: I think it's definitely something that you've got to work at. It's the mentality of your game, through a lot of the things that you do, whether it's strength and conditioning, playing with older people, or just being a smaller guy, it's something that you gain over time.
How about heart?
A lot of it. A lot of it.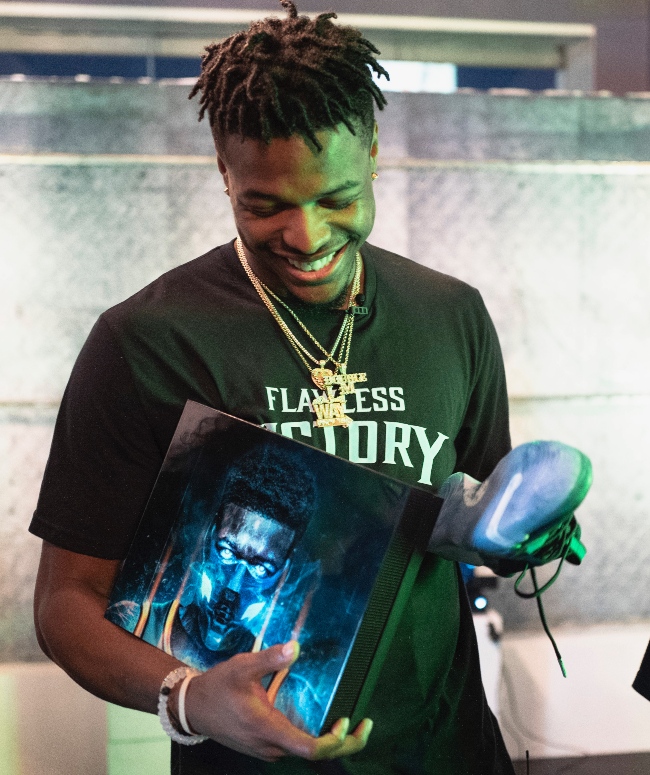 It's also evident that you play big. You stay in attack mode, you challenge opponents at every position and you remain aggressive at all times. Is that your M.O.?
Yeah I got that. There ain't no back down from me. That's just how I am. I've always been like that and I think it's helped me get here, so I'm going to keep on.
Where does that come from?
Family. I got a lot of older cousins, older sister, they never let me have anything easy. So I had to play with a chip on my shoulder. Whether I won or lost, I've got to bring it if I want to have a chance. I was younger and I was smaller than everyone too.
For a lot of players, being undersized and at times overlooked helps fuel you to go harder. So going against the bigger, older guys pays off when you advance from one level to the next.
Right. In the grand scheme of things it does. I played with them and I may not have been as good as them at the time, but eventually I'm gonna get there. And most of my friends were older, too. In my neighborhood there wasn't too many people my age. I don't really have friends right now that are 21 or 22, it's 23 and up. At a young age, they had advantage just being older than me.
Fast forward to going at established vets in the NBA. You come in and you're used to challenging guys, but this is at the highest level. How did you find a way to establish yourself?
It's crazy because I got to see both sides of the spectrum. So in Dallas we had J.J. Barea, Devin Harris, Dirk Nowitzki…all vets. Me and [Dorian Finney-Smith], and then Luka of course, we were the only guys on rookie contracts.
It was a team full of vets, and you come in as a point guard, you expect to lead them and things like that. I learned that the best way to lead is to earn your respect first. You got to come in, do your work, earn your respect and then they'll listen to what you got to say. If you're not doing what you're supposed to do, it's in one ear and out the other with them. They've been there, done that.
Now I'm on the team with all young guys. It's amazing, in just two years in the league I get to see both sides of the spectrum, and how the vets look at things. By no means am I a vet, I'm still a young guy and I still make mistakes, but there's a lot of things I learned from the vets that I see a team of young guys. Now I see why this guy was telling me this that and the third when I was in Dallas. It's a cool experience to see both sides.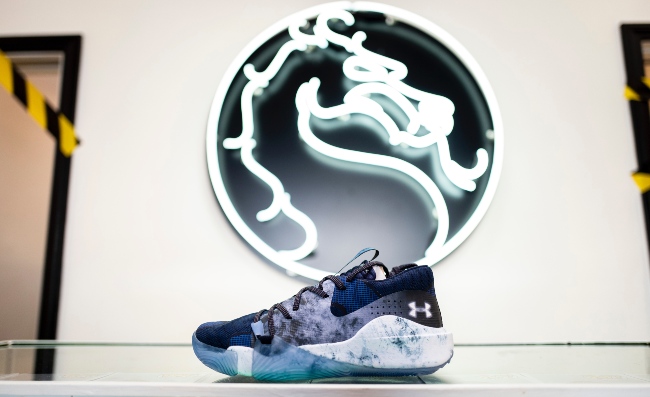 So when the trade is made and you end up in New York on a Knicks team with so many young players, do you come in there drawing from what those vets passed on to you in a season and a half?
Definitely. For me, going from Dallas to New York, coming in there with a level of confidence. Not really getting down on myself or anything. Just finally being able to play my game. Going out there in a mode of not thinking, just reacting. It's a lot easier for me to play.
Playing in New York now, it's a bigger stage and the biggest market. Does that present another challenge on another level?
Speaking for myself, I don't really thinking about that when I'm playing. Just go out there and just hoop. You don't think about that.
It also happens where you see get thrust into the spotlight too fast and they don't have their priorities right. There are so many distractions and you're expected to a poised adult at nineteen, and it can go sideways fast. What keeps you focused?
That's the truth though. You see that a lot. I'm mature for my age. I got a real good, big family, and they do good of supporting me and keeping me humble. So, I don't really have to worry about getting out of line and not taking care of my business. They stay on me about that.
Now we have this collaboration with your Under Armour HOVR Havoc and this new Mortal Kombat. What's the story behind it?
We were in Las Vegas last year for Summer League and we were releasing the HOVR Havoc. It was just an idea I had — it really came with the idea in Fayetteville, where I'm from. The hesitation move, it freezes people, and we call it the "Sub-Zero." I brought the idea to Under Armour and they accepted it. They came up with the design for the shoe.
In the spirit of Mortal Kombat, we'll call your signature move your on-court "Fatality" finisher, which is what?
Yeah so mine is like a Sub-Zero. My move is a hesitation, boom, boom. If I do it, I blow past a guy and he's standing there like he's froze. So that's how the Sub-Zero correlation came along. That's Fatality time there. I'm getting to the rack then.