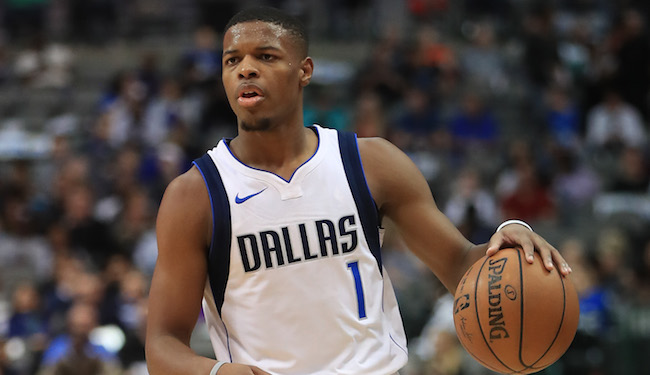 Things aren't going well for the NCAA right now, as the FBI's investigation into a pay for play scandal that began with a few teams, most notably Louisville, has expanded to include more than 20 programs as of now.
Yahoo Sports' Pat Forde and Pete Thamel have obtained many of the documents the FBI seized from sports agency ASM, which offer a detailed look at which players have received money and benefits, both big and small, in recent years. Those documents show the brazen manner in which ASM was spending on high school and college players, with the expectation that they would eventually sign with their agency once ready to enter the NBA.
There are some current players named, many of whom just received meals — which is an NCAA violation, but one of their dumber rules. Just think about yourself as a college kid and if you would have (or did) happily accepted a free meal if offered. Among those listed as current prospects to have met with agent Christian Dawkins and/or accepted a meal from him include Duke's Wendell Carter, Kentucky's Kevin Knox and Alabama's Collin Sexton, all of whom are projected lottery picks this year.

There are also a number of last year's top draft picks and current NBA rookies named in the documents, some of whom received a healthy amount of money while in high school or college. Dennis Smith Jr., the Mavs rookie point guard who went to NC State, received upwards of $73,500 from ASM prior to his professional career, but the best part is he didn't even sign with the agency and they have a note on how they're trying to figure out ways to "recoup" some of that money.
Dennis Smith, who would go on to play at North Carolina State in 2016-17, received $43,500 according to the documents. Another document headed "Pina," for ASM agent Stephen Pina, says Smith received a total of $73,500 in loans, and includes notes about "options to recoup the money" when Smith did not sign with ASM.
This is the ultimate example of "if you're going to cheat, at least win" in the agent world, but Smith isn't alone. Markelle Fultz is listed as having received $10,000 (and also not signing with ASM), while Kyle Kuzma received $9,500 while in college. Bam Adebayo is, like Smith, listed as a "bad loan" in one of the documents after he was given over $36,000 while also not signing with ASM.
The amazing thing isn't the amount of money getting thrown around, but that it feels relatively low for some of these players. Smith certainly secured the bag and then ran off on the plug once it was time to enter the NBA, which is brilliant because there's really no way ASM could cry foul since they were doing something illegal in the first place. However, Fultz was the best prospect in the country and only got $10,000, when he was worth way more.
If anything, the ridiculousness of players accepting meals from agents being illegal and the relatively small potatoes (Smith aside) that comprise many of these payments will hopefully start to sway public opinion more and more towards wanting players to be able to get paid while playing in college.