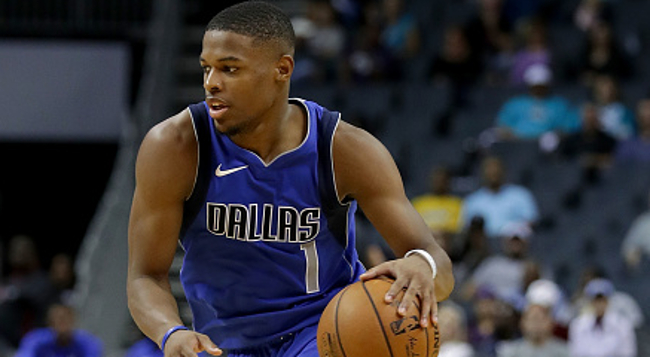 Mavs guard Dennis Smith Jr. is one of the most exciting rookies in this season's incoming class and a lot of people's sleeper pick for Rookie of the Year. Smith is a super athletic combo-guard in the mold of Russell Westbrook and pre-injury Derrick Rose, and he turned more than a few heads at Summer League in Las Vegas with his all-around stellar play.
With the Mavs likely lottery-bound next summer, they should be able to devote much of their attention to developing Smith's game. He should have ample opportunities to shine, and he'll benefit tremendously from being around a veteran like Dirk Nowitzki.
He's already made a high-profile fan in LeBron James, and prior to a preseason game in Orlando last week, Smith discovered that he has another rather famous admirer. Retired Magic legend Tracy McGrady was in attendance and made it a point to offer the gifted youngster a few words of encouragement before tip-off.

Via Alex Kennedy of HoopsHype.com:
"That was almost unreal," Smith told HoopsHype. "T-Mac's a guy I watched so much growing up. For him to even know who [I am] – much less talk to [me] – is crazy. He remembered me from a camp – adidas Nations. He remembered me from there. It's crazy that he even remembered me! Man, that was a great feeling. A great feeling."
It's always so touching to see young NBA stars meet their idols for the first after growing up watching them play (which also makes us feel old). An explosive wing-man with a silky shooting touch like T-Mac wouldn't be a bad player for Smith to emulate, and it'll be exhilarating to see just what he has in store for us once the season gets underway.
(Via HoopsHype.com)