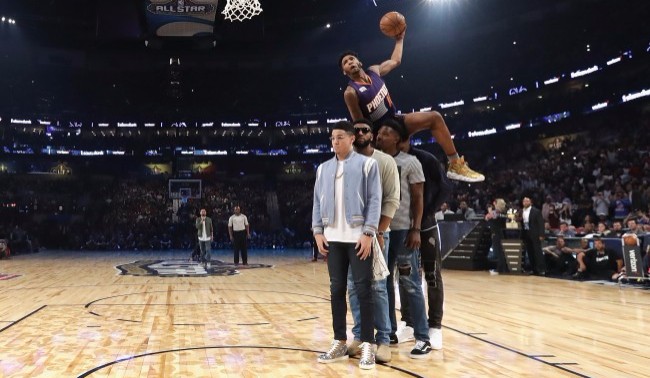 Derrick Jones Jr. had tons of hype coming into the NBA Dunk Contest as a YouTube sensation and a high flyer at UNLV, and the Suns rookie lived up to those lofty expectations with his second dunk on Saturday night. Jones Jr.'s first dunk only earned a 45, as he had a little difficulty trying to jump over four guys, but with his second dunk he had no issues with perfect execution.
Jones took a lob off the side of the backboard and soared through the air and going between the legs before throwing it down with authority. It was the second perfect 50 of the night, after Glenn Robinson III earned a 50 by jumping over a guy sitting on another guy's shoulders in a dunk that woke up the New Orleans crowd.

Jones' 50 on the second dunk set up a finals showdown with Robinson, as the two biggest stars in the dunk contest, Aaron Gordon and DeAndre Jordan, struggled in the first round.
He followed that up with another 50 in the finals, as he went with another variation of a between-the-legs dunk.
Jones' two 50s weren't enough to take home the title, as Robinson III wowed with his impressive dunks and a more impressive consistent performance.