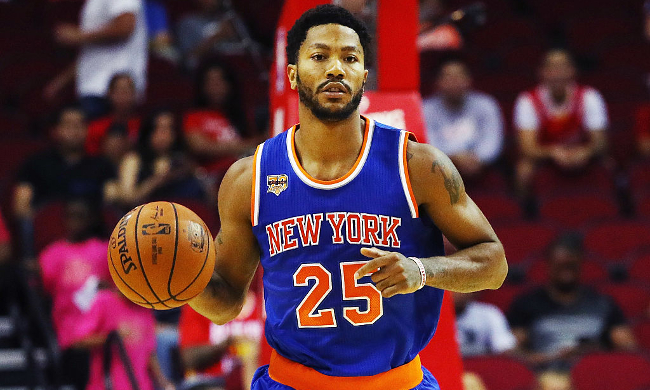 It's not often that an NBA team's official website publishes an interview with another team's star player ahead of their game, but the Chicago Bulls just did it, and the result is a must-read. Earlier this week, Derrick Rose did his best Don Draper (or maybe Russell Westbrook) impression when he claimed he wasn't thinking about the Bulls ahead of his return to the city he once called home. On Friday night, the new point guard for the New York Knicks will play his old team in front of the fans who worshipped him since the day the Bulls selected him first overall in the 2008 Draft, and Rose wanted us to believe that this is just another game to him.
However, he eventually opened up about everything from his urgency to become an NBA star so he could rescue his mom from poverty to his reaction upon learning that the Bulls traded him. He knows some fans will cheer him and others will boo, but his goal is still simple: "I just want to win the game." It will be a big win if it happens, as the Bulls are currently 3-1 and apparently doing just fine without Rose, whose Knicks are 1-3 and still struggling to find their identity.
Win or lose, though, it doesn't mean Rose has stopped thinking about the bigger win he never had in Chicago.
"Not winning a championship is really the only thing that stands out," he says. "Being traded. I never thought I'd be traded. I was very surprised even with everything that happened. B.J. (Armstrong) called and he told me it's a chance. I was emotional. I didn't tell my mom. People were calling, coach Cal, my brothers, friends, seeing how I was doing. At first I was emotional. It was sad, devastating at first. But after awhile I thought about how strong my faith is. I knew it's nothing He would put on my plate I can't handle, so I took it as a blessing. (Via the Chicago Bulls)
And, as if Chicago sports fans need a pep talk right now, Rose reminded everyone what it means to play in the Windy City.
"The city meant everything," said Rose. "They're the reason I played the way I played. I wanted to show them that every year I worked on my game. In the offseason, I worked on things to see if people saw what I worked on, adding a jump shot, a bank shot, see if the fans can see; 'Can you see I'm working hard?' They saw me ever since I was in sixth grade, a guy who had natural raw talent, figured out how to score on a consistent basis, improved his jump shot, watched my turnovers and still working on that, being more efficient with the amount of dribbles before a shot, little things like that. The city pushes you and forces you to work on your game. I don't care who you are. If you are in Chicago and play for a professional sports team and if you have greatness in you the city is going to pull it out of you one way or the other; they're going to force you to work on your game or if you have a tiny bit of greatness they are going to get it out of you in Chicago because it's the culture. I'd look at tapes of Walter Payton and you could tell he had that itch. Once you come there you get that itch of every day work on becoming great, the culture and history there; the fans have a lot to do with that because of the support. I hope the people in New York can see."
They might see eventually, but right now they're just booing. That's sort of their thing.