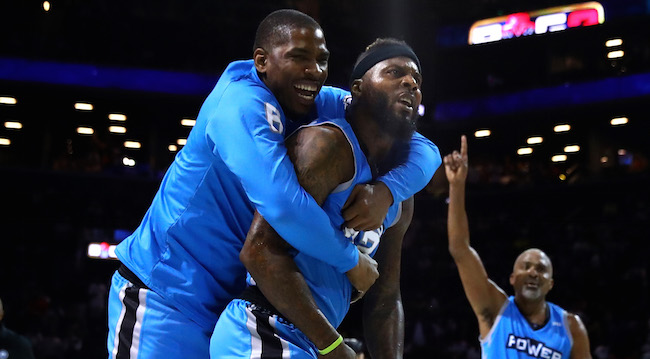 The BIG3 tipped off its inaugural season on Sunday afternoon at the Barclays Center in Brooklyn, as the fledgling 3-on-3 league comprised mostly of former NBA veterans hit the court for the first time. The first games of BIG3 action didn't disappoint, as fans were treated to competitive (although, fairly long) games. We don't have any highlights from the TV cameras at the games, because those don't hit the airwaves until Monday night on FS1, but we have some footage from in the arena of the first highlights from the BIG3.
As per the BIG3's unique rules, games are played without a time limit and are won by the first team that reaches 60, with the caveat that they must win by two. The first two games of the season were both won in dramatic fashion, with Rashard Lewis converting the free throw after an and-1 layup (and failed game-winning effort from Ricky Davis of the Ghost Ballers) to give the 3-Headed Monsters a win in the first game.

In the second game, an even more dramatic sequence led to a DeShawn Stevenson game-winning three-pointer (from just inside the four-point circle) to lift the Power over Tri-State. After the ball was poked away on a post-up attempt, a three-pointer was launched from the corner by Tri-State that glanced off the front iron. Stevenson's teammate cleared the ball out to the three-point line and found Stevenson at the top of the key for his dagger.
The crowd, as you can see, was in a frenzy throughout the possession and were rewarded with a deep game-winner from Stevenson, who celebrated appropriately by running around the court, bouncing off teammates and cameramen. The BIG3 might not be the best basketball in the world, but if it can produce these sorts of moments from former NBA stars on a regular basis, then fans will continue to show up and show out throughout their nationwide tour.