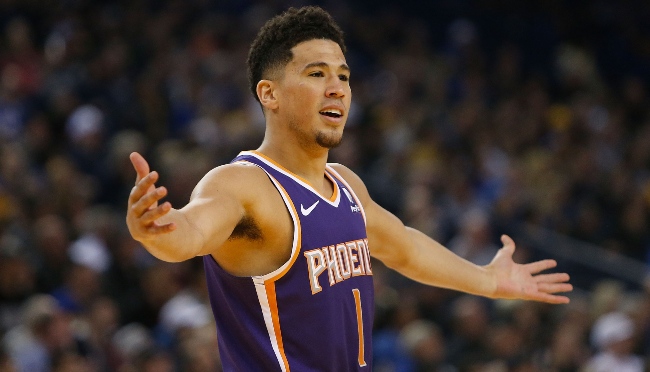 The last few years have seen a rise in the number of NBA offseason workout videos. This genre of video isn't particularly new, but we've come a long way since, say, that video of Hakeem Olajuwon teaching Dwight Howard low post moves in a pretty empty gym at the start of the decade.
This offseason has been no different, with numerous players participating in runs with one another. One such video that has made the rounds over the last day shows a run that involves, among others, Devin Booker, Joakim Noah, and Ben Simmons. Booker runs have popped up a few times this summer, but this one has sparked a philosophical debate about open gym etiquette.
At one point, Booker gets the ball in the corner and takes his time sizing up what he wants to do next, which leads to another defender coming down and double-teaming the Suns standout. It appears Booker loses the ball out of bounds as he tries to dribble out of the situation. Booker then proposes that the group is "not doubling in open gym" and that he wants everyone to "work on our games." Noah rejects this thesis. Here's the video.
https://twitter.com/HoHighlights/status/1163641139989229568
Booker's argument appears to be that he views the open gym as an opportunity to refine specific parts of his game that he is not normally afforded in more formal settings. This includes getting the ball in the corner and finding a way to beat a defender 1-on-1. Noah, meanwhile, agrees that these open gyms exist to let you work on your game, and points out that getting the ball in the corner and immediately being trapped by a second defender is as much a part of the game as a chest pass.
In a way, it's refreshing to see this aspect of offseason open gyms and not just compilations of threes and dunks and things of that nature. Still, you learn from the time you're in kindergarten that you're supposed to double someone in the deep corner, and being able to pass out of that to find an open teammate is a really valuable skill for a player to have in their bag, so I'm inclined to agree with Noah on this one.