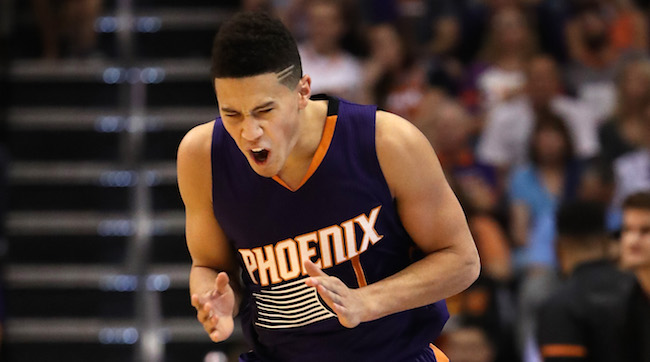 The bad news for Phoenix Suns on Friday night was that they lost to the Celtics, 130-120. Only one player eclipsed 11 points for Phoenix, which usually wouldn't result in 120 points, but that one player who dropped more than 11 played out of his mind.
Devin Booker put 70 points on the Celtics, setting a Suns franchise record and an NBA record for the most points in a game by a player younger than 21.
The crazy thing was that Booker wasn't just getting his and leaving everyone else out to dry. The second-year guard out of Kentucky made his presence known on the glass and with his ability to distribute, as his box score included eight rebounds and six assists. Only one other player has gone for 65+ points, 6+ assists, and 6+ rebounds in a game in the last 30 years.

As for other honors picked up by Booker, he became the sixth player in league history to hit the 70-point mark, joining the likes of Wilt Chamberlain, Kobe Bryant and David Robinson.
Based on Booker's player profile, you'd maybe assume that he just hoisted up threes and they all went in, right? As it turns out, Booker's offensive performance didn't include a bunch of makes from behind the three-point line. Booker went 21-for-40 from the field, 4-for-11 from three, and 24-for-26(!!!) on free throws on the evening.

Oh, and one more thing: even the Celtics' fans really wanted Booker to get as many points as possible.
Booker is only going to get better as his career progresses, which is a really scary thought. Whether the 6'6 guard ever scores this many points in a game again remains to be seen, but even if he doesn't, it's crazy that a 20-year-old who hasn't reached his ceiling yet was able to drop 70 in an NBA game.