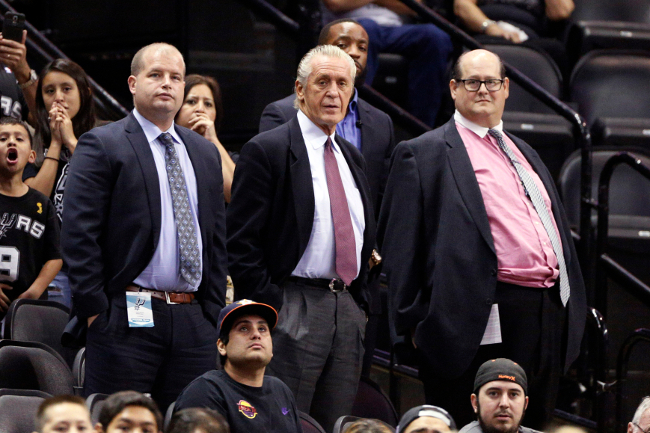 The Miami Heat did their exit interviews with the media Monday, and Heat President Pat Riley appeared to take an unsubtle shot at LeBron James when asked about heading into this summer's NBA Draft and free agency period.
You'll recall that, prior to "The Decision: Redux," LeBron was vocal via social media about wanting the Heat to draft UConn point guard Shabazz Napier. In an obvious effort to placate LeBron, Riley did just that, but LeBron returned to Cleveland anyway, and Napier's rookie season in Miami has been a mixed bag at best.
They've been on wildly divergent paths ever since, with the Heat narrowly missing the post-season, and the Cavs just revving up for what appears to be a deep playoff run. But before Chris Bosh was lost for the remainder of the season due to blood clots on his lungs, things were looking up for the Heat after landing star point guard Goran Dragic at the trade deadline. The only problem is that Dragic will also be a free agent this summer, although Riley seems confident the Heat can retain his services for the long term, according to Ira Winderman of the South Florida Sun Sentinel:
"If he doesn't sign," Riley said laughing, "my a– is going to be in that [media] seat next year and I'll be writing about it.

"There has not been any indication, any decision with he or his representatives about anything other than when I gave up two picks for him, you roll the dice. But you also feel good about the fact that we're in a very good position to offer him more than anybody else."
Riley quickly became a trending topic on Twitter this morning, although he later tried to backtrack on his earlier comments regarding the upcoming off-season:
The Heat GM has been mostly amicable about LeBron's departure up to this point, but it just goes to show that you never what you're going to get with a sometimes ascerbic 70-year-old who seems just as competitive as ever despite his age.