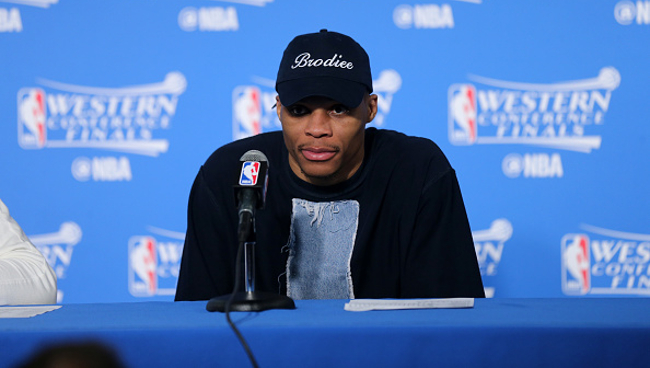 Kevin Durant's bombshell announcement earlier this week that he was leaving OKC to sign with the Golden State Warriors in free agency has caused all sorts of ripple effects that we've barely even begun to wade through. No one, of course, has been more affected by all this than his former team, in particular a certain former teammate who made up the other half of the Thunder's superstar duo.
Although all sorts of rumors have emerged about a widening rift between the two that supposedly played a significant role in Durant's departure, Russell Westbrook has remained conspicuously mum on the topic and about his own future with the franchise. But that hasn't stopped the rampant speculation, specifically the notion that Russ' own exit from the organization is all but a foregone conclusion.
Nobody knows for sure, of course, and Westbrook himself helped muddy the waters recently at his annual basketball camp in Oklahoma City.
Westbrook has always had strong, altruistic ties to the community there, but it should be noted that he could conceivably continue putting on his camp in Oklahoma City even if he does, in fact, leave via trade or decide to sign elsewhere when he becomes an unrestricted free agent in the summer of 2017. Either way, it'll still be bad news for any camper foolish enough to try and guard him one-on-one.
https://www.instagram.com/p/BHm7EXpgoDM/?hl=en