As the Oklahoma City Thunder spent the 2014-15 season with most of their core breaking bones, snapping tendons and not playing basketball, they ceded the main stage of the NBA as the Warriors took over the West. As the calendar turns towards next season, it's hard to say exactly where they stand. In an interview with The Oklahoman, Thunder guard Dion Waiters let us know where he thinks they stand. If you know anything about Dion, you can probably guess.
"We got to come in knowing what's at stake and that's a championship. We got the team. If you look at our team, we don't have (any) missing links. We have everything that we need. And it's up to us just to go out there, build that chemistry on and off the court and go out there and get it done. It's not much else to talk about."
Without a doubt, the Thunder have the most top-tier talent of any team in the NBA. When healthy, Kevin Durant and Russell Westbrook are both capable of MVP-level performances, and Serge Ibaka is a dominant shot blocker who can hit open jumpers. Whether they have missing links or not is another question.
Besides Westbrook, the Thunder guards are Waiters, D.J. Augustin, first-round draft pick Cameron Payne, Anthony Morrow and Andre Roberson. Augustin is a solid offensive role player and Morrow is a deadeye spot-up shooter, but Roberson is the only plus defender among them and he's an offensive liability. Westbrook is so good that the guard play will remain above average, but Payne is under a lot of pressure to provide some manner of two-way play as a ball handler.
The Thunder are paying Enes Kanter a shocking amount of money to provide more offense in the frontcourt, but he's been so bad defensively thus in Oklahoma City that Ibaka may not be able to compensate. Steven Adams is still only 21 and is a useful player, but can get into foul trouble and doesn't have much offensive polish. Between those three and smaller contributions from Mitch McGary and Nick Collison, they have a lot of talent in the frontcourt, but again, only one two-way player — and Ibaka showed last year he wasn't ready to assert himself as much on offense. He struggled with health issues, but he also declined in every major statistical category besides free-throw percentage. Maybe the leap everyone seemed to expect last year will come this year, or he will improve with a clean bill of health.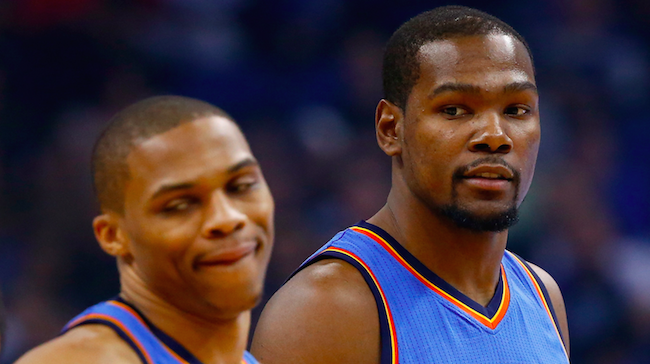 None of it matters nearly as much as Kevin Durant. The 2014 MVP had a nightmare of a season, and he faces an uncertain future. Foot injuries that require multiple surgeries bring back nightmares like no other malady in the NBA; tthey can immediately and irrevocably alter a career, especially that of big men. Yao Ming, Bill Walton, Zydrunas Ilgauskas and possibly Joel Embiid have all been felled by foot injuries. Durant may not be a center, but he's 6'10. Everybody hopes that given the offseason, Durant's foot can fully heal and this will all be a bad dream. But it's something to ponder in the summer before what could be his final season in Oklahoma City.
If Durant comes back healthy, he and Westbrook are so good that a team of specialists (as long as they step up) could have as good a shot as any at the NBA title.
And of course, there's rookie head coach Billy Donovan. He'll be in every bit as tough a position as David Blatt was in Cleveland last season with the steepest of learning curves and no margin for error. There's no reason to doubt him yet, but more coaches fail than succeed in the NBA.
So, in a way Dion is right when he says the Thunder have the horses to win a championship. But there is a whole lot more than chemistry to talk about before it happens.
(Via The Oklahoman)