Tuesday night's meeting between the Lakers and the Mavericks was supposed to be the 50th and final time living legends Dirk Nowitzki and Kobe Bryant faced off. As has been the case in nine games this season, Kobe's body simply wasn't up for the rigors of an NBA contest, so he sat the game out. But fellow 37-year-old Dirk was up for the challenge.
After looking sluggish for most of the game, Dirk scored eight of his 13 points in the fourth quarter, including the game-winning jumper over Julius Randle with 2.1 seconds remaining. It was classic, clutch Dirk: with a defender in his face, he let loose an arching shot from the far baseline that dropped right into the net and clinched another win in an opponent's building.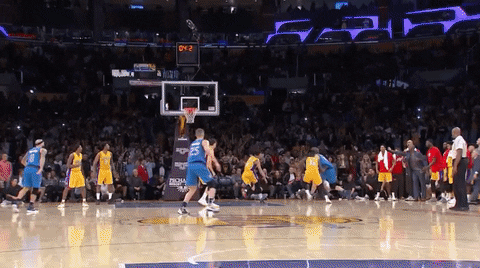 Nowitzki's momentum on the final jumper carried him towards the Lakers bench, right into Kobe's arms – where the old foes exchanged friendly pats of acknowledgment in the last time they'll ever share an NBA court together. Dirk spoke highly of Bryant after the game, calling him "Michael Jordan for my generation" and saying what a pleasure it was to compete against him for so many years.