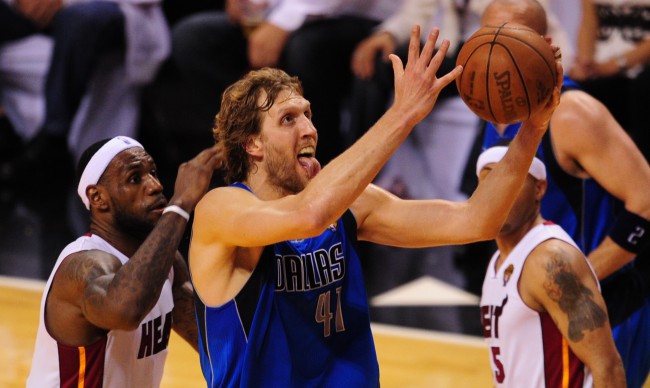 The Big German knows a thing or two about winning a Finals MVP. Just four years ago, Dirk Nowitzki won the Bill Russell Finals MVP trophy after defeating LeBron James' Miami Heat team during his inaugural year teamed with Dwyane Wade and Chris Bosh. LeBron's deferential play during that '11 Finals is but a faint image in the review mirror of the current masterpiece he's painting; he's averaging 36 points, 12 rebounds and nine assists per game during these 2015 NBA Finals.
Many have proposed that James win the Finals MVP regardless of the outcome. However, Nowitzki objects to the idea:
"For me, it's got to be somebody from the winner," Nowitzki said Tuesday before interacting with kids at a Mavs camp. "That's how I always viewed the MVP, even though LeBron is playing from another planet and he's singlehandedly keeping the series close. I've always believe the MVP has to come from the winner.
Nowitzki may have a point, but executives across the league would disagree. LeBron has pieced together a thoroughly comprehensive performance that's unlike anything we've ever seen on this Finals stage. It's a performance worth reviewing for years on end; it's a performance worth elevating to a mythological pedestal; it's a performance worthy of a Bill Russell Finals MVP.