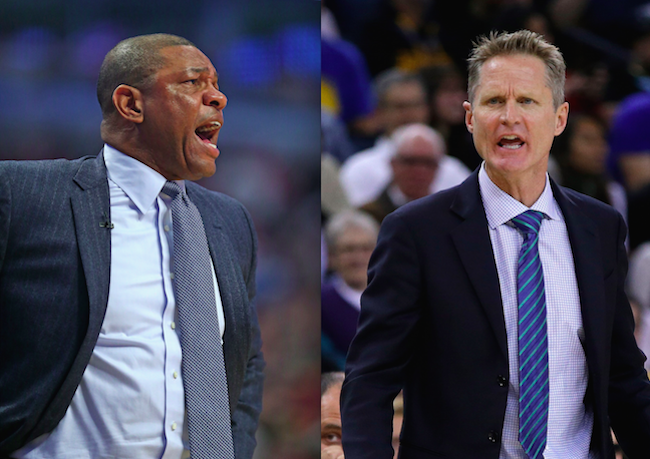 Draymond Green might not be suffering from "Blake-itis," but the Defensive Player of the Year candidate still isn't playing in tonight's marquee matchup between the Golden State Warriors and San Antonio Spurs.
Why? Green has a sore shin, and there's simply no reason for him to play through pain considering the Warriors have already wrapped-up home court advantage throughout the Western Conference playoffs – something Steve Kerr readily admitted earlier today.
Let's just say Doc Rivers has a slightly different take on Green's absence.
Tame, but definitely contentious nonetheless. Why Rivers is boasting at all, though, we don't really understand. Los Angeles is only 1-2 versus Golden State this season after all, a reality he clearly understands.
Either way, Kerr simply couldn't let the opportunity to throw shade back his adversary's direction slide.
Zing!
Rivers and Kerr are two of the most affable coaches in basketball. We've no doubt each made his remark through a sly smile. Warriors-Clippers is the league's best rivalry, though, and we're thrilled to know that both coaches involved in it are comfortable throwing fuel on the intensity fire.
Los Angeles and Golden State tip-off from Staples Center at 10:30 EST on TNT.