In the tightly contested series between the Los Angeles Clippers and the San Antonio Spurs, the number one deciding factor has emerged: the benches. Both starting units are great, though the advanced numbers from this series don't bear it out, thanks to the Spurs' comprehensive domination in Game 3. The Clippers erased that game by retaking home court in Game 4, and the eye test (or at least my eye test) gives L.A.'s starters a slight edge over the Spurs, at least as long as Tony Parker continues to struggle.
Anyone paying attention knew that the reserves would be a major storyline in this series. Gregg Popovich's bench is the deepest in the NBA, and Doc Rivers' is one of the shallowest (I see you Portland). The only reserves Rivers has been comfortable throwing out there in high-leverage situations have been sixth man Jamal Crawford, baby-man Glen Davis, and his son Austin. The latter two have been much maligned, but so far they're collectively a big reason this series is tied.
Davis leads the team in Net Rating with 14.6 to the positive, and the younger Rivers took over in Game 4 with 7-of-8 shooting for 16 points in 17 minutes. Austin's coach, GM and dad was understandably proud of him, considering they both have been ridiculed over the move. As Adrian Wojnarowski brought up, it's more difficult to justify as a purely basketball move when there's such an obvious other factor in play.
A quick word on that: Doc has every right to be proud of his son, and of his player — and any GM who made a widely-panned move to acquire a player, only to see that player make good on a big stage, would probably get emotional. Vindication is a strong emotion. Woj has some good nuggets about Doc and Austin's relationship, but I've already lost patience with the human interest side.
Austin Rivers had a breakout game against one of the very best teams in the NBA, and carried the Clippers' notorious second unit on the way to a crucial road win. That's a big deal no matter who his father is. He doesn't have to shoot 88 percent every game to make a positive impact going forward, but he does need to perform closer to that level than what he displayed in the regular season. So let's see that performance:
Here's what all that looked like in shot chart form, courtesy of NBA.com:
At least one of those long twos was pretty much a three-point attempt with Rivers' foot on the line, but still — 3 out of 4 mid-range jumpers will not go in every game. Here was his shot chart for the entirety of the regular season: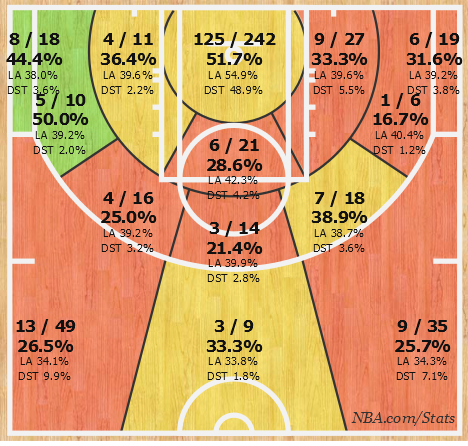 From that, we can see that Rivers generally shoots more threes than long twos, which is good from an efficiency standpoint. And yet, nothing from his past performance indicates that he can sustain even average shooting numbers. He didn't change his approach on Sunday; he still dribbled too much and nearly lost open looks that his defender gave him by going under screens, and he still only goes to his right.
His conversion rate at the rim, below league average in the regular season but perfect in Game 4, bears watching the closest. Mid-range shots can come and go for anyone, and he'll never stay hot from there if/when the Clippers continue to advance — remember that the Finals are over a month away. But I could kinda sorta talk myself into a newly confident Rivers going stronger to the rim and opening up the Spurs' defense with penetration.
Perhaps more important than Rivers' shooting to the Clippers is his defense. He is 6'4, taller and longer than Tony Parker (6'2) and Patty Mills (6'0), and not too small to guard Manu Ginobili (6'6). His defense has also been unsustainably great so far this series: according to NBA.com's player tracking data, the Spurs have shot 16.8 percent below average from the field with Rivers guarding them, but he's only been on the court for 64 out of a possible 192 minutes this series and is usually going against the bench units San Antonio trots out. So again, those numbers should regress (and aren't perfect to begin with), but they bode very well for Rivers being a viable bench option.
The biggest reason why Rivers' defense is more important than his offense is Jamal Crawford. Both Rivers and Crawford are score-first guards who love having the ball in their hands, but Crawford is a far better shooter and penetrator. Both of them are averaging just over two assists per 36 minutes, which is a better look for the more heavily used Crawford.
If the Clippers keep Blake Griffin on the floor when they sit Chris Paul (which they have for much of this series), it's not that bad, because Blake is a great passer who draws tons of double teams, especially when anchoring bench units. But Rivers has never been a passer, and it's unrealistic to assume he'll turn into one overnight. But units in which he and Crawford share the floor can still be useful, considering Crawford is a defensive liability.
Since Doc Rivers traded for his son, the two have been the butt of so many jokes that they deserved the redemption of Game 4. But when the other shoe drops for Austin's offense, he's going to need to remain effective on defense if he wants to keep the story going.
(Yahoo)