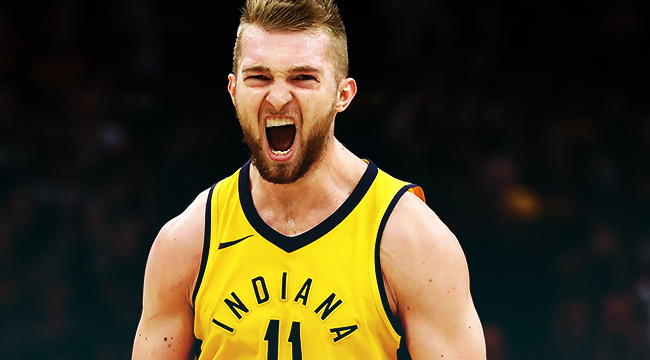 LOS ANGELES – Domantas Sabonis plays basketball with the sort of rambunctious, unbridled enthusiasm usually reserved for a puppy that finally gets to see its owner after being home alone all day. He wants to show off all his toys, flies around with (and without) purpose, has a million things he wants to do all at once, and instantly makes Indiana's day brighter.
That sort of energy — complete with chest pumping, fist-bumping, grins, and screams — is infectious, and is part of why it's becoming impossible to keep the third-year player from Gonzaga off the floor for all the right reasons.
"You need that," Pacers coach Nate McMillan said on Sabonis' approach after the team's recent 104-96 loss to the Lakers at the Staples center. "You need that with guys coming off the bench. He's been able to provide that for us, which has really helped us, coming in off the bench, being a spark, making things happen, and it's hard to keep him off the floor."
Sabonis impacted the game with a flourish, as the walking Mario Star collected 20 points and 15 rebounds in 29 minutes of work. This marked his second straight 20 and 15 game off the bench, a feat that hadn't been accomplished since Shawn Kemp in 1992. As the anchor of the Pacers' second unit, Sabonis is tasked with a grab bag assortment of challenges, from physicality on defense to rebounding, getting teammates involved, and trying to find ways to get his shot on the other end of the floor in limited time.
McMillan has a dilemma: He likes what Sabonis brings off the bench, but he's performing at the level of a player who likely should be showcased a bit more. McMillan admits "there's no drop off" from the starting five, and the numbers back that up.

The Pacers are better in essentially every statistical category when Sabonis is on the floor, per this smart look by Indy Cornrows. On the year he's averaging 14.3 points (on 64 percent shooting), 10.1 rebounds, and 3.3 assists (with a 24.5 PER) and has made five of the six threes he's attempted so far. The emotion he brings acts as a conch shell, rallying a team that's been prone to slow starts despite their 14-10 (fifth in the East) record.
"He's just taking his game to the next level," Pacers forward Thaddeus Young says of Sabonis.
That being said, the Pacers inked starting center Myles Turner to a four-year, $72-million extension before the season and rely on him as a defensive presence. Turner's third in the league in blocked shots (and in block percentage), and is 37th in the NBA in defensive win shares while posting a defensive rating of 101.7. He's developed a reputation as a guy you don't want to challenge in the paint, and there's reason to believe his offensive game will come around after a slow start to the season, which includes a true shooting percentage of 53.3.
It's a tightrope act to have to balance a pair of players like Turner and Sabonis, and one for which McMillan will be under scrutiny if the Pacers start sliding in the playoff standings.
"We all know what Sabonis can do," Young says. "He's a very, very good player. He makes us better each and every time he's on the court. But that's for coach and everybody else to have to figure out, how to play him, and how to play the rest of the guys. I leave that up to them. We love having him on our team, and having him out there on the court. He makes us 10 times better. But so does Myles, Myles makes us better. It's one of those fine lines you have to walk; whoever has it going, you go with them. It's one of those things where you've gotta play who's in sync with the game right then and there."


Whether McMillan has to get creative or not, it's clear Sabonis needs more minutes. Third-year players with his skillset and motor aren't exactly everywhere in the NBA. Crafting rotations around Sabonis — starting or otherwise — should pay dividends for the Pacers and bring about the type of performances we saw in LA.
Sabonis remarks simply on his approach, "I just come out and bring energy." In one sequence against the Lakers, it was easy to see that on display. With the Pacers trailing 52-35 midway through the second quarter, Sabonis got a putback on a Tyreke Evans miss, pinned a Tyson Chandler layup attempt and came down with it, then drained a three at the other end, leading to a Luke Walton timeout. Earlier in the second, he scored seven of the team's 10 points over a 2:30 stretch, snagged an offensive rebound, and reeled in an impressive steal on defense. It was a flurry of activity from a player known for that sort of effort, which is something he prides himself on.
Bojan Bogdanović, enjoying an impressive season in his own right as he's shooting 50.2 percent from distance on 4.2 attempts per game, has developed a close relationship with Sabonis. The two goof off during shootaround, spend lots of time bonding off the court, and have developed an understanding that Bogdanović believes comes from the two being "from let's say the same part of Europe." There's a real trust for Sabonis when the two play together, and Bogdanović is proud of what Sabonis has been able to accomplish thus far in his career.
The Croatian is also quick with praise for his Lithuanian counterpart.
"For me he's the Sixth Man of the Year right now," Bogdanović says. "Just the energy that he brings every single night for us, it's huge. He's developing his game year by year. He's getting better. He's a big part of what we are trying to do here."
There's that word again: energy. Tapping into that will be the key to how far Sabonis – and the Pacers – can go this season. Regardless, he'll be grinning and fist-pumping the whole way.