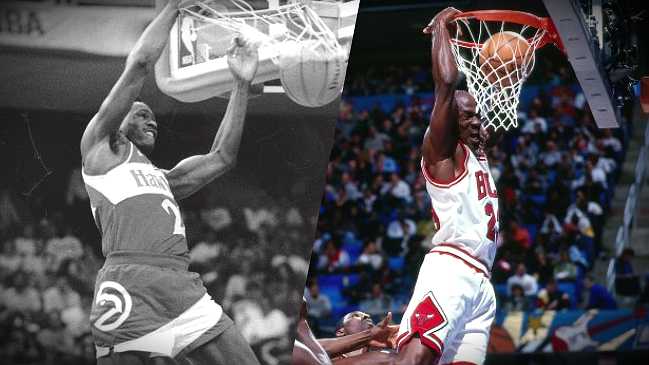 There haven't been many basketball players like Dominique Wilkins. The former star for the Atlanta Hawks and 2006 inductee into the Basketball Hall of Fame is one of the greatest dunkers of all-time, an uncanny mix of devastating power and awe-inspiring finesse when he rose above the rim. While he's most well-known for dunking, Wilkins game went far beyond thunderous jams – he averaged nearly 25 points and 7 rebounds per game over the course of his career. He made it to nine All-Star Games. He was so great for the Hawks that he even has a statue outside of Philips Arena.
But since his career ended in 1999, Wilkins has kept busy. He is a color commentator who covers the Hawks and has become one half of one of the league's best announcing duos alongside Bob Rathbun. More importantly, Wilkins – who was diagnosed with type-2 diabetes when he was 40 years old – has worked to help people manage the illness.
Now 56, Wilkins sat down with us to discuss the 2016-17 Hawks, dunking in the NBA, the legendary 1988 Dunk Contest between himself and Michael Jordan, and his work with Novo Nordisk to form the Diabetes Dream Team for healthy tips to live with diabetes.
Bill DiFilippo: In your opinion, who's the best dunker in the NBA and why?
Dominique Wilkins: That's a good one. I'd probably say in-game dunker would probably be someone like Blake Griffin. But as far as contests, you gotta give it to (Zach) LaVine because he won the Dunk Contest. But if I had to pick a guy, I probably would say (Aaron) Gordon.
Let's kind of take a different take on this question: which dunker reminds you the most of yourself?
Well I don't think it's one guy. I think it's a combination of guys. You know, I was a finesse as well as a power dunker. The thing I did, a lot of my creativity came in games, it wasn't in dunk contests.
When people think of you, the first thing that I think of lot of people think about are the shows that you and Michael Jordan put on in the 1985 and 1988 in the Dunk Contests. Was there a rivalry between you two for the "best dunker in the world" crown?
Our rivalry was probably more friendly. It was competitive, but it was more friendly because Mike and I are really great friends. But we wanted to know who was the best, so that's the reason why we did it, but dunking was only a tool for intimidation we used. It really wasn't who I was or who he was, it's just those dunks were so dramatic because everybody thinks every play I've ever done was on a dunk, but it's hard to get over 26,000 points on dunks.
Yeah, absolutely. So Jordan busted out free throw line dunks both years. The first time, he did that had you seen something like that before? And which one was better, the '85 one or the '88 one?
Both of them were great, both of them were great. But you know, the dunk from the free throw line was done originally by Dr. J, because Dr. J is kind of the granddaddy of us all. But the Dunk Contests that Michael and I put on, they were just great Dunk Contests. I don't know if one was better than the other.
'88 is considered by many to be the best Dunk Contest ever. Of course, you had so many great dunks, the powerful, finesse dunks in those. Jordan had so many great ones – I mean, his free throw line dunk is maybe the most famous Dunk Contest dunk ever. Do you have one lasting memory from 1988?
The thing that I remember most about that contest, the electricity in the building was so high. That's one contest I can say no matter who won, the fans got their money's worth.
There are plenty of people who thought you should have won the '88 contest. Do you agree with them or do you say "You know what? I got my one, Jordan can have this one"?
You know what? A lot of people thought I won, a lot of people thought he won. It just came down to the last dunk. But yeah, if you ask me, yeah, I probably won, but I was in Chicago, what can I tell you?
Let's quickly talk about Atlanta. The Hawks had an interesting offseason, the biggest move was they lost Al Horford but they brought in Dwight Howard.
Well I think we got better as a team with Dwight bringing a different element – much more physicality and a great rebounder, and a guy who can still score around the paint. You throw it in to him, teams gotta make a decision, either double him or let him go 1-on-1, so that's a great element for our team.
They're both dudes who can go for 20 and 10 easily on any given night, but how would you say they're different and how do you think Dwight fits into what Mike Budenholzer wants to do?
I think with Dwight, again, he's a true guy who can get you 18 or 20 a night and 12 or 13 rebounds. He's different because he brings a much more physical presence around the basket, and a guy that's a true post-up player, which, those guys are kind of rare these days.
What do you think the Hawks' ceiling is this year?
I don't like predictions and look too far ahead. I like to look at it one game at a time, and I think when you look at it that way, your expectation isn't too high. My feeling is this team is going to be a very good team, theres on question about that, very good team. Barring injuries, we could do a lot of damage.
Just when you look at the two teams, how do you think they match up with, say, when you look at the Eastern Conference, the Cavaliers are the team that everyone looks at. How do you think Atlanta matches up with Cleveland?
Well, it's hard to say. Again, we have some new people, they have some new people. So I can better answer that question once the first month of the season kind of goes by and we got maybe 10 games under our belt to see what type of team we have. Right now it's hard to see matchups because everybody has a lot of new moving parts now.
You do a lot of work with folks manage diabetes. You were diagnosed with type 2 diabetes after your career ended, right?
Yes, actually, a year after I retired. When I turned 40 I found out I was a diabetic.
We see athletes try to manage various illnesses all the time – Chris Bosh and blood clots is the most prominent example in basketball. You never had to manage an illness like diabetes while you were playing, but with your experience helping people and with your experience as an athlete, what do you think is the most important thing that athletes need to do to manage illnesses and perform at a high level?
Well when you're an athlete, first of all diabetes is very hard to detect when you're in great shape. People ask me all the time would I have been able to play longer if I found out I was a diabetic early, and the answer to that is no, because I was in great shape, I still could have played two or three more years if I had chose to at that time but it was time to move on.