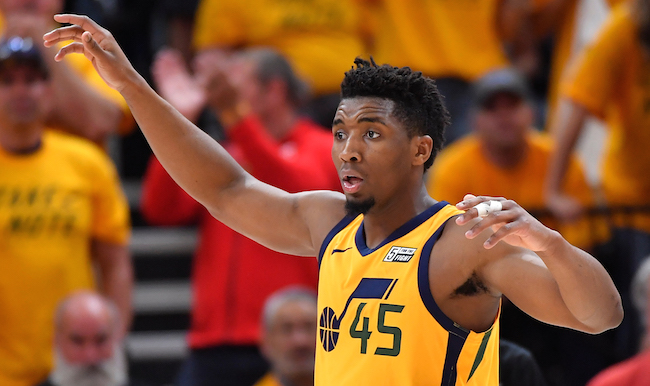 The Utah Jazz have not gotten off to the start they hoped for, coming off a trip to the Western Conference semifinals a year ago. The Jazz were expected to be the league's best defensive team, returning just about everyone from a squad that was unbelievably good in the second half of last season, and there was hope that rookie sensation Donovan Mitchell would continue taking steps forward into superstar status.
To this point of the season, those things haven't happened. The defense is ranked 11th in the league in defensive rating, which isn't bad, but also not close to the level of last year, and Mitchell has battled through some injuries and general sophomore struggles, particularly with his shooting efficiency.
Still, things may be turning around a bit in Utah. At 12-13, they're 12th in the West but not too far out of playoff position, and have won three of their last four. The hope in Utah is that they're turning the corner and can find some rhythm to rip off a nice streak over the coming months to position themselves better for the stretch run to the postseason in the hotly contested West. Mitchell is a key component in that as their leading scorer, and him being out for any extended period would be very bad for their chances.
Mitchell seems to be back at full strength, which is great news for the Jazz, but he received a jury summons recently that asks him to be available from January 7 to February 1, 2019. That would be quite the absence for Mitchell and very much a bad thing for the Jazz, so they sent a letter back to the Utah courts requesting Mitchell be excused from jury duty due to his schedule.

My guess is Mitchell and the Jazz's request will be honored by the courts, although I can't remember the last time I've heard of a pro athlete being called into jury duty. Still, our civic duty is the same no matter what our occupation, but one would think Mitchell will likely get out of this one.