Hassan Whiteside has been the biggest surprise of a wild NBA season so far. He's a leading candidate for the Most Improved Player Award, and he's helping the depleted Miami Heat stay in the Eastern Conference Playoff hunt by putting up ridiculous numbers.
NBA.com's David Aldridge has a great piece on Whiteside's meteoric rise, which includes a telling anecdote from Dwyane Wade about meeting and practicing with Whiteside during the Heat's training camp last fall.
"Couldn't nobody stop him from scoring," Wade said. "He scored every time. He blocked every shot. He got every rebound, to the point where it was like, this practice wasn't fun. But it was good. I don't think none of us had experienced this kind of domination in practice."
After being drafted by the Sacramento Kings in 2010, the gangly 7-footer has done stints in the D-League, China, Lebanon, as well as several NBA teams before catching on in Miami this season.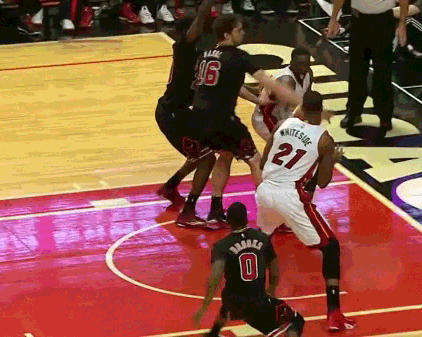 The Heat gave him a two-year contract last fall, with a team option for next season, but he'll be an unrestricted free agent in the summer of 2016 and will command a great deal of attention if he keeps this type of otherworldly production up.
"…since breaking into the Heat's starting lineup after the New Year, he's wreaked havoc: 14 double-doubles, one triple-double (against Chicago, with 14 points, 13 rebounds and a franchise-record 12 blocks), and four games with 20 or more rebounds — including 25 last week in a win over the Los Angeles Lakers."
Here's hoping that Whiteside both keeps his NBA2K rating up and manages to avoid anymore run-ins like the one he had with Phoenix Suns' center Alex Len last week.
(NBA.com)