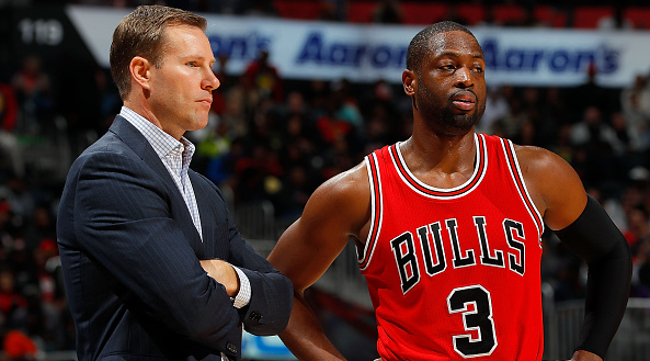 The Chicago Bulls laid another giant egg on Sunday afternoon in their ugly loss to the Boston Celtics at TD Garden. They've dropped five straight now and sit a game-and-a-half out of the eighth and final playoff spot in the East, ironically enough, just behind Dwyane Wade's former team, the Miami Heat.
Fred Hoiberg has been experimenting with an 11-man rotation of late, which has naturally led to a lot of questions about the team's lack of strategy and consistency. Wade, for one, is fed up with answering those questions, as he told reporters after the game.

Bobby Portis is one guy in particular who doesn't appear ready to handle heavy minutes for Chicago, as he got off to an absolutely abysmal start on Sunday. The sophomore forward missed his first two shots badly, got blocked by Amir Johnson, then committed a turnover, all in the first three minutes of the first quarter. But even that didn't deter him from leading the Bulls in shot attempts in the first half.
Chicago managed a meager nine points in the opening frame, which was a season-low for points scored in any quarter. A major culprit for the uneven minutes distribution is the lingering enigma at point guard. Rajon Rondo, Denzel Valentine, and Cameron Payne all played more than 18 minutes against the Celtics, with only Valentine scoring in double-figures. Still, Wade, who finished with just eight points, and was a game-worst minus-37 for the afternoon.
Given their recent skid, the Bulls' postseason prospects aren't looking good, and even if they do somehow manage to sneak in, it's difficult to imagine them giving anyone much of a challenge. Once the offseason rolls around, it's increasingly-likely that Wade will get his wish and that upper management, along with Hoiberg, will have to answer for some of these decisions.
Of course, the future Hall-of-Famer might not stick around long enough to find out the answers.