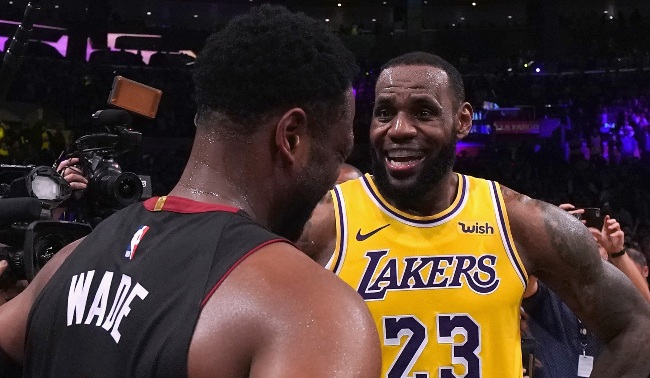 Dwyane Wade's final ride with the Miami Heat has already had some big moments, but as the veteran guard winds down his career he seems to be opening up a bit more about some very interesting NBA stories.
The Miami Heat star already had an emotional final game against friend and former teammate LeBron James in Los Angeles, where the latter signed as a free agent over the summer. James had recruited Wade to the Cavaliers last season, though Wade was traded as part of a frantic deadline day where the Cavaliers essentially rebooted their entire roster and Wade was traded back to Cleveland.
But as Wade claims, even though he joined LeBron in Cleveland he knew his friend's long-term goal was to play for the Los Angeles Lakers. And Wade knew that well before he decided to join LeBron on Lake Erie for a bit.

Wade spoke to Joe Varden of The Athletic in an interview that covered Wade's brief time in Cleveland and ultimately that he knew the end of the road for James in town was coming up soon.
"LeBron, first of all, he's a guy who always plays his cards close to the vest, but I knew his ultimate goal was to be in Los Angeles," Wade told The Athletic. "He recruited me and he talked to me about signing there (Cleveland), and I said, 'listen, I know you might not be there long, you're gonna be a free agent and there are some things that might happen, and we'll have a conversation.' I just thought I'd make it through the season first."
The question remains, of course, why would Wade sign with the Cavaliers for just a season if he knew what would happen in Cleveland following James' departure? The easy answer, according to Wade, was that he wanted to win right now and not worry about his future.
"That's why I signed there in the first place," Wade said. "If I had known that was gonna happen, I wouldn't have signed there. It's gonna be an item on my resume that's hard to understand, but it happened. I know I filled my role while I was there, as a veteran and a leader. At least I can say I made some really cool relationships with the people who were there."
Wade and James are two players who understand the value of a legacy, and so Wade acknowledging how strange his half season in Cleveland may look is interesting. It also might add a bit more context to James famously saying his playing days against Wade had to end either at Staples Center or Madison Square Garden. LeBron knew he had more left in his career after the 2017 season and wanted to win with Wade right away. For Wade, it might have been his last ride then and there if he won a title with the Cavaliers.
None of that happened for Wade in Cleveland, though, but the reasoning that go him there still makes a good deal of sense.