NEW ORLEANS – In the opening scene of their fantastic new documentary, The First Do It: The Life And Times Of Earl Lloyd, filmmakers Coodie Simmons and Chike Ozah take their camera to a local basketball court in an impoverished area of Alexandria, Virginia and train their lens on a pair of elementary school children.
The question: who was the first black player in the NBA? One boy sheepishly admits that he doesn't know. The other, after a long pause, hazards a guess: "Michael Jordan?" The directors' question is a rhetorical one, aimed as much at the audience as it is the pre-adolescent subjects onscreen.
The central thesis of the film is clear: why don't we know more about the life and career of one of the NBA's pioneering figures? From there, they endeavor to take a random bit of sports trivia and rescue it from obscurity.
Film-making duo Coodie and Chike are known primarily for their work in the music industry. They've directed music videos for Kanye West, Pitbull, Mos Def, Erykah Badu, Lupe Fiasco, Wale, Christina Aguilera, and more. They made their first foray into documentary film-making a few years ago with the powerful ESPN 30 for 30 film Benji, about a high school basketball star from Chicago who fell victim to senseless gun violence.
When they pose the question about the first black player in NBA history, it's an admonishment for audiences everywhere, particularly fans of NBA basketball. Yet, they're careful to implicate themselves along with everyone else. It was the revelation that they could've asked that question of almost anyone and gotten a similarly-puzzled response that gave them the initial impulse to undertake this project.
Injured NBA forward Festus Ezeli, who headlined a panel discussion following the world premier of the film in New Orleans over All-Star Weekend, admitted that he wasn't aware of Lloyd's legacy until he had to start taking monthly quizzes on NBA history upon signing with the Portland Trail Blazers last summer.
Lloyd was once a staple of the NBA's transition program, sharing his triumphs and travails with incoming rookies, but following his death in early 2015, Coodie and Chike hope their documentary can continue that legacy of educating young players on the history of the NBA, its parallels with the Civil Rights movement and how the league ultimately got to where it is today.
"Every player should probably have to see this documentary," Chike told DIME. "It's almost like in anything you do, any craft, whether you're in journalism or you're a filmmaker, and not doing the due diligence to research the work of the people who came before you, the greats, to understand how they carved out a space for you. In every craft, that's important. We had to do it in film. You go watch some of the classic films so you can see the nuances of why film is film. It's the same in the NBA."
Lloyd never had the same cultural cachet as Jackie Robinson, who broke the color barrier in Major League Baseball just three years prior to him entering the NBA. That was largely because he wasn't as transcendent an athlete, but what the filmmakers discovered through this process was that Lloyd's virtual anonymity was partly due his tendency to recoil from the spotlight.
Lloyd was fond of saying that he took "polite umbrage" in being compared to Robinson because he didn't believe his impact was nearly as significant, nor did he endure nearly as much scrutiny or abuse from the masses. Yet the directors took their own umbrage in the fact that Lloyd isn't more heralded for his role in transcending race in professional sports.
"I think he's a part of that conversation," Chike said. "Understand, he was a very humble person. You see the Hall of Fame trophy in his closet [in the film] next to, like, a game of Life. So if left up to him, he's not the type of athlete that would put his accolades ahead of anyone. But I think it's important because if there isn't him, then there isn't an opportunity for a lot of black athletes that we have now, maybe not as fast. Like his son said in the doc, it was five years before [Bill] Russell, ten years before Wilt [Chamberlain]. If he'd have jumped up in the stands [to fight hecklers], there might not be a Bill Russell. That comment alone lets you know he needs to be a part of that conversation."
In 1950, Chuck Cooper, Nat "Sweetwater" Clifton, and Earl Lloyd became the first black players drafted into the NBA. Because of what Lloyd always referred to as a scheduling fluke, he became the first to play in an NBA game for the Washington Capitals on Halloween night of that year. But his rookie season was cut short after just seven games when he was drafted into the army at the height of the Korean War.
After two years of military service, Lloyd returned to find the Capitals defunct. Through a dispersal draft, he eventually landed with the Syracuse Nationals, where he would become the first black player to win an NBA championship in 1955.
There were a lot of firsts in Lloyd's life. When he retired following a solid 10-year career as a complementary NBA player, he became the first black assistant coach with the Detroit Pistons and would later become the league's fourth black head coach.
The broader strokes of Lloyd's life and career are readily available online, but the filmmakers instead deploy a rotating cast of friends, family members, former coaches, and teammates – while unearthing a repository of photographs and film clips from his playing days – to paint a more complete portrait.
Lloyd himself doesn't appear much in the film beyond these clips and photographs as he suffered a stroke just before the directors traveled to his home in Crossville, Tenn. to interview him for the documentary.
His deteriorating health and eventual death bookend the film's narrative and act as its emotional core as the directors spend significant time at a local hospital with his two sons, Kevin and Kenny, as they grapple, rather publicly, with their father's mortality.
Known around the campus of West Virginia State College as "The Big Cat" or "Moonfixer" (classmates joked that he was so tall that he could reach up and readjust the moon to their liking), Lloyd came of age in the Jim Crow South, though he often downplayed the effect racism and segregation had on him as a person because it was all he'd ever known.
Like most black athletes at the time, Lloyd was often not permitted to eat in the same restaurants as his teammates or stay at the same hotels, and was pelted with racial slurs and threats of violence at every arena he visited. It's this dark and sordid history of oppression and intolerance, the directors say, that helps keep things in perspective.
"Sometimes, I think we just get comfortable," Coodie said. "I think people, well, us as black men, we might've gotten a little comfortable and don't understand and see what people did and appreciate the people who paved the way so we can be this comfortable. And the kids need to see that because we're putting value on that."
The heartache and hardships Lloyd endured during his career made him an avatar for the nationwide struggle for justice and equality that continues today. In recent years, simmering racial tensions between police and the black community have boiled over and erupted into deadly violence.
As a result, the world of professional sports has experienced a sort of Renaissance of cultural consciousness that hearkens back to the days when sports icons like Muhammad Ali, Bill Russell, Jim Brown, and countless others were on the front lines of the Civil Rights movement in America. Today, more and more black athletes are speaking out on the social issues plaguing their communities and spearheading efforts to affect change.
At the ESPYs last summer, LeBron James, Carmelo Anthony, Chris Paul, and Dwyane Wade took the stage at the opening of the show to deliver an impromptu call for peace. They, along with other NBA stars, have organized events with community leaders in cities around the country where violence is prevalent – Los Angeles, Chicago, Atlanta, etc. – to be more proactive about finding solutions for societal ills.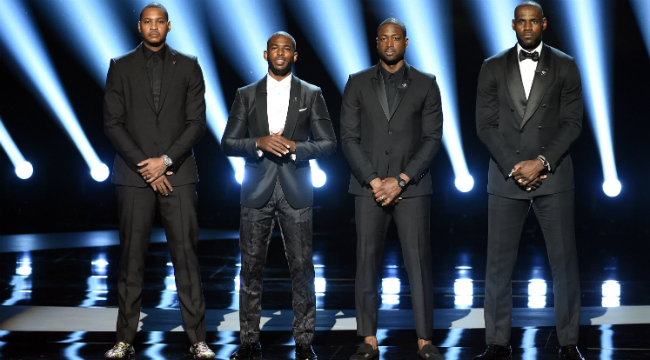 Many have done so at the risk of great personal cost to their image and their brand, as such politically-charged topics tend to be divisive among fans. Still, both filmmakers wish more athletes would've gotten involved much sooner.
"I love the fact that the athletes and people are speaking out, but it's almost like it's forced," Coodie said. "It's almost to the point where it's like we have to say something."
Chike doesn't see that, or the resulting uncomfortableness that comes with these difficult conversations, as a problem.
"I think we're at a point in the world where we're starting to have difficult conversations, and people aren't scared to engage," Chike said. "I'm a person that's non-confrontational just by nature, and I already sense a feeling of being a little bit more like, you know, let's have this conversation. By getting uncomfortable, you can create a better scenario out of that discomfort than you can by staying comfortable and sweeping things under the rug."
As part of the screening for their new documentary, the filmmakers invited 100 students from a local high school, McDonogh 35, to be their VIP guests at the event. McDonogh is the first public, college-prep high school for African-American students in Louisiana and is celebrating its 100th anniversary this year. Chike, who grew up in New Orleans, talked about what it meant to be able to bring things full circle.
"It's huge to do stuff, especially in front of the youth, because I feel like they can see me and see somebody that came from, you know, I'm from uptown Jackson and Danneel, not the most pleasant area of town you want to be raised in, but I came from there, and I'm able to actually follow my passions and do something that I love and be successful at it. Hopefully, that can inspire them as well. I'm sure some of those kids came from places that looked very familiar to places where I came up. Hopefully they can identify with me."
The First To Do It: The Life And Times Of Earl Lloyd will hit theaters nationwide in April.