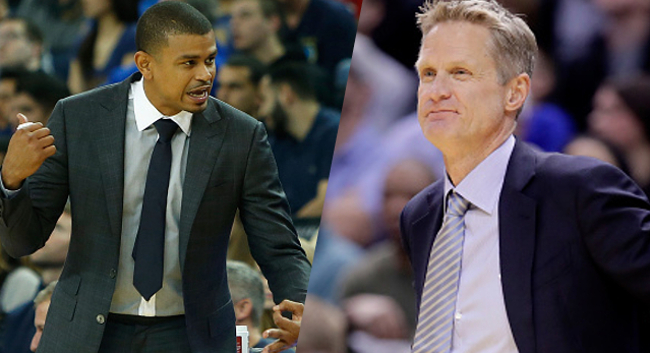 Last week, Warriors coach Steve Kerr made the somewhat controversial announcement that he's used medical marijuana on a couple of occasions within the past year and a half to help with his ongoing back issues. Kerr missed a significant portion of Golden State's historic season after complications he suffered from a pair of spinal surgeries the previous summer.
Kerr even went so far as to argue that the world of professional sports needs to re-evaluate their stance on marijuana and consider it as an alternative to the high-addictive, and often deadly, pharmaceutical narcotics that are routinely prescribed to athletes to combat their injuries.
Kerr drew praise from marijuana proponents, but not everyone was thrilled with his stance, including certain of his colleagues around the NBA. Count Suns coach Earl Watson among those who believe his comments to be irresponsible. Via Chris Haynes of ESPN.com:
"I think our rhetoric on it has to be very careful because you have a lot of kids where I'm from that's reading this, and they think [marijuana use is] cool," Watson told ESPN on Saturday after the Suns' 138-109 loss to the Warriors. "It's not cool. Where I'm from, you don't get six fouls to foul out. You get three strikes. One strike leads to another. I'm just being honest with you, so you have to be very careful with your rhetoric."
Watson went on to equate marijuana use with a life of crime, drugs, and violence, calling it a "slippery slope" that leads to more dangerous behavior. Kerr, meanwhile, initially alluded to the fact that pharmaceutical drugs kill more people in America each year than all other illicit drugs, combined.
Though marijuana has been legalized for medicinal and/or recreational use in 26 states, the NBA still prohibits its use among its players. And with the new collective bargaining agreement reportedly set to be finalized soon, it's a topic that might not be revisited for many years to come.
(ESPN.com)