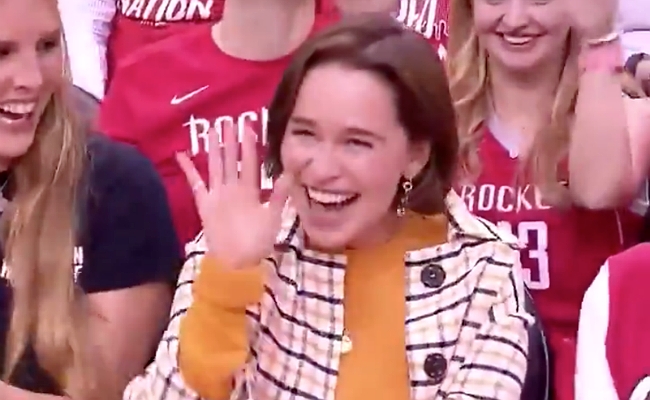 Game of Thrones is getting a lot of attention as the show airs its final episodes, though not all of it has been positive. An errant Starbucks cup somehow became the main character from the last episode, for example, and the show's rabid fans have had plenty to say about how the events of the final season have unfolded.
For the actors on the show, however, the work is done and all there is to do is move on with the rest of their post-GOT lives, and that includes Emilia Clarke, who plays Daenerys Targaryen on the show. Clarke appeared in the crowd in Houston for Game 6 of Rockets-Warriors and the home team made sure to pay special attention to the Mother of Dragons.
In fact, the in-arena welcome hilariously included her full title on the video board chyron, even if it did take up nearly half the screen.

Fittingly, the Rockets mascot wanders by with a Starbucks cup before he notices Clarke and pretends to freak out. It's good space work all around. The graphic that played on the video board then said "get loud to burn the Warriors," which makes sense in the context of Clarke appearing on screen but would be a bit harsh otherwise.
Still, it's a fun tie in to a show that's clearly having a cultural moment, and Clarke seemed genuinely excited to be there. That didn't stop a few jokes, though.
Whether Dany is your queen or not, we'll find out exactly what happens in Westeros in the next few weeks. Then again, some might have to wait a little longer to find out than others, because should the Rockets win on Friday night, Game 7 will take play on Sunday.