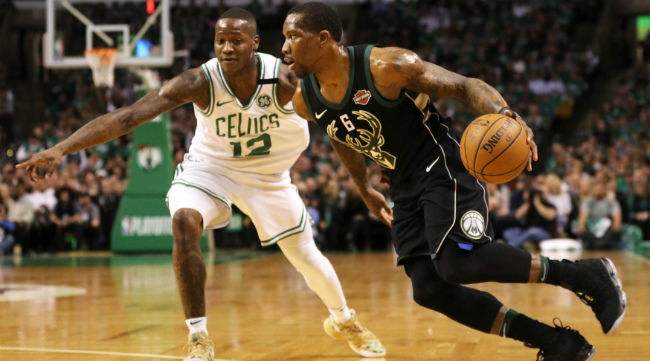 When Eric Bledsoe was traded to the Bucks last season the hope was that he would provide a spark to the team and maybe vault them into title contention. Unfortunately for them, while he showed flashes in the regular season, the Jason Kidd/Joe Prunty coaching staff didn't know how to get the best out of him. When it became playoff time the Bucks fell apart and Bledsoe struggled while his counterpart, Terry Rozier, shined against him.
Bledsoe has been much better this season, helping the Bucks to the best record in the NBA. The continuing emergence of Giannis Antetokounmpo as an MVP candidate, the hiring of Mike Budenholzer, and better shot selection by Bledsoe has led to this. Bledsoe, though, can't stop thinking about last season's playoff series. The Bucks could have had a first-round upset against an undermanned Celtics team. Instead they lost and Bledsoe points to himself as the reason why, via ESPN.
"It was my fault we lost the Boston series," Bledsoe says, shoving his hands into the pockets of his sweatpants before twisting the left side of his mouth into a half-smile, half-snarl that makes the 29-year-old look like a toddler with a secret.

"It's a good thing to feel like that sometimes," he continues. "You want to be hungry and prove everybody wrong."

Teams want their key pieces to think this way. Bledsoe placing the blame on last year's coaching staff for his own struggles would be a problem, but he's putting it on himself. He's showing a fire and desire that teammates like Antetokounmpo appreciate.
"He's a little guy," Antetokounmpo says, grinning. "But he's got a big heart. It certainly takes a lot of guts for him to say that [the Boston series was his fault]. But it's always a team effort. All we wanted for Eric was to build winning habits, and I think he's done a great job doing that."
As the Bucks continue on this season it's really beginning to feel like their year. LeBron James is in the West and the East has four teams at the top, now that Victor Oladipo's season is over in Indiana, that seem primed to make a Finals run. If Milwaukee can get past the few teams that are in its way then a trip to the NBA Finals could be in the Bucks future. They'll need Bledsoe to be at his best in the postseason this year, and he seems motivated to right the wrongs of last year against Boston.